International Pediatric Transplant Association Update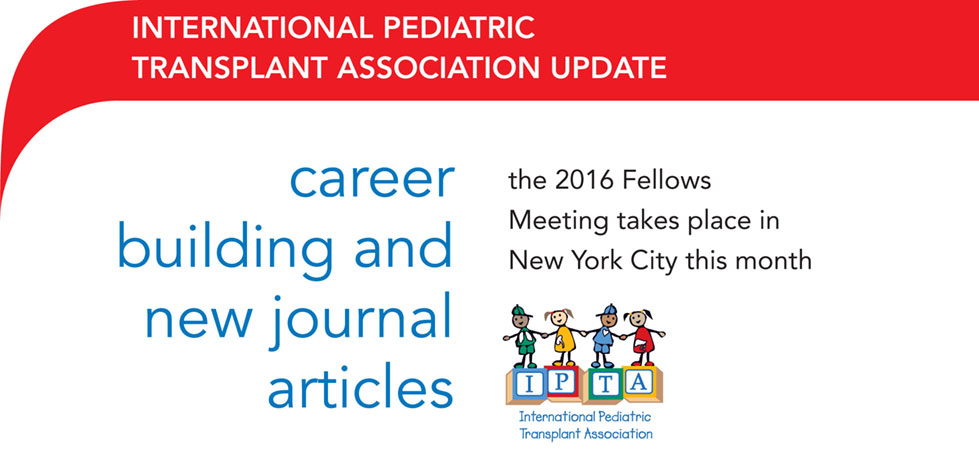 The Executive Committee and Council of the International Pediatric Transplant Association (IPTA) is pleased to provide an update of our Association's activities.
The next IPTA Fellows Meeting on Pediatric Transplantation will take place in New York City, USA, from April 8 -9, 2016. This Fellows Meeting is held every two years, traditionally in off years of the main IPTA Congress. The symposium is designed for and limited to clinical fellows and residents, surgical fellows, research fellows, and other trainees who are planning a career in pediatric transplantation medicine, surgery, or research.
The scientific program has been compiled by the IPTA Education Committee and Executive Committee, and meeting participants will have the opportunity to learn about the field of pediatric solid organ transplantation from experts in both basic science and clinical care while working within small interactive groups. The meeting also offers important insights into career development through access to expert faculty. Maximum attendance for this program is twenty-five participants and attendees have been selected based on the score of their abstract submission. We gratefully acknowledge the support of the IPTA Fellows Meeting by grants from TTS and Novartis.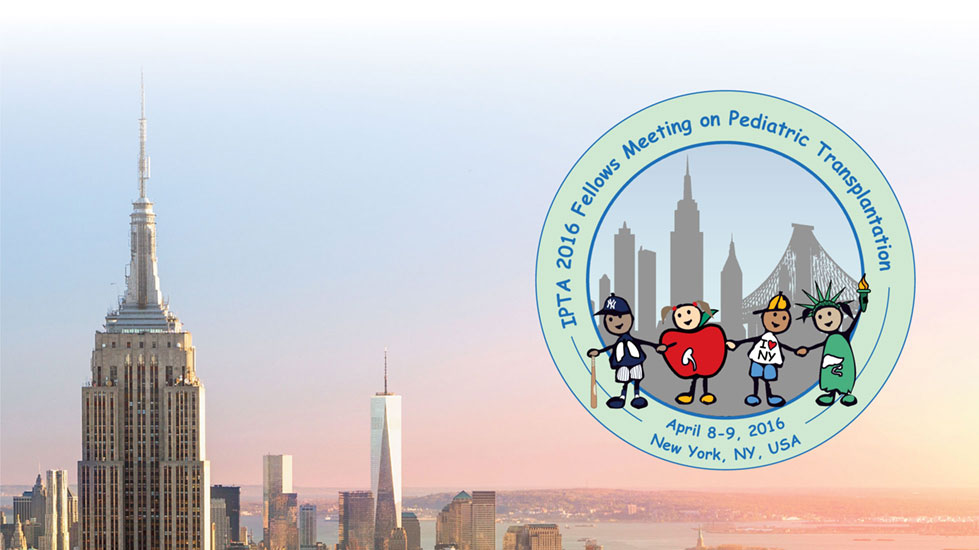 The IPTA Publications Committee has proposed a new type of article for our journal Pediatric Transplantation called IPTA Practice Recommendations. These recommendations use similar levels of evidence as the more elaborate practice guidelines, such as the KDIGO guidelines, but because of the smaller evidence-base in the pediatric transplant literature, the process does not include the same extensive literature review. The policy and procedure for the review and approval of IPTA practice recommendations is as follows:
Each publication of Practice Recommendations drafted by the IPTA Publication Committee receives IPTA endorsement by an Ad Hoc Committee of experts with a short turnaround time of seven working days. This Ad Hoc Committee consists of 2–4 people from the IPTA Council (non-authors) and is appointed by the IPTA Executive.
The manuscript, which has been revised according to the suggestions of the Ad Hoc Committee, is submitted to the journal Pediatric Transplantation, where it undergoes the regular peer review process.
The manuscript, which has been revised according to the suggestions of the reviewers of Pediatric Transplantation, is reviewed and approved by the IPTA Council.
The manuscript is then posted on the IPTA website as a draft and an email will be circulated to the IPTA membership and with a ten-day period outlined for public commentary and feedback to be sent to the main author.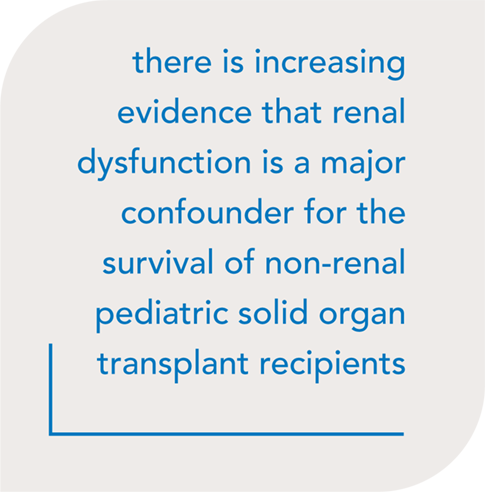 The first practice recommendations will deal with the monitoring and management of renal dysfunction after pediatric non-renal transplantation because there is increasing evidence that renal dysfunction is a major confounder for the survival of non-renal pediatric solid organ transplant recipients. This first IPTA Practice Recommendation will soon be published in an upcoming volume of the journal Pediatric Transplantation.