Transplantation and Transplantation Direct

---
In April 2016 we polled our readers and reviewers for their feedback on our recent efforts to improve and revitalize the Transplantation Journal. We had close to 700 replies. The following are themes emerging from that feedback.
---
Quality of Published Works
Responses were split evenly between those who felt quality has improved (48 %) and those who felt it had stayed the same as the year before (50%), while 2% did not reply.
Overall Experience with the Journal
We asked respondents to rank their experience with the journal on several measures on a scale of 1 (poor) to 5 (excellent). We identified several areas that are ongoing concerns for our editorial team. For instance, plans are in the works to drastically change the way accepted material flows to production. You can expect to see material going online weeks faster than has been managed in the past.
Experience with the Editorial Office
Using the same scale as above, we asked respondents to rate the Editorial Office on several measures. We were gratified to read comments attesting to the friendliness, warmth, professionalism and overall goodwill most experience from this office. More than half of the replies rated the office 5/5 on all measures. We will continue to work to exceed your expectations!
Choosing Transplantation
More than one-third of respondents said that they consider Transplantation their first choice for publishing their work.
Popular Features
The In View section of the Table of Contents is a favorite of many readers. Research Highlights, written by Elmi Muller and Fadi Issa, continues to be the overall winner. More than 40% of respondents said they read it every month. People in Transplantation, Game Changers, and eResources are very popular also.
Social Media
The most popular social media venues for journal readers are Twitter @TransplantJrnl, and our transplant professionals' network on LinkedIn, and Facebook. As a direct result of this survey, we have created a WeChat account in China to reach our dedicated Chinese readers.
Liver content
With our new partnership with the International Liver Transplantation Society 43% of respondents said they consider Transplantation the home of their liver material.
Transplantation Direct
Nearly three-quarters of respondents (72.85%) thought it was a good idea to establish an open access journal as a companion journal to Transplantation. Transplantation Direct has passed all application hurdles with the National Library of Medicine, and we are in the final approval stages.
Other Comments
We received many useful and helpful comments that will continue to guide our editorial direction and highlights improvements. In addition, we had nearly 200 ideas put forth on topics readers would like to see reviewed in the journal. We may be calling on you to help us with those topics!
---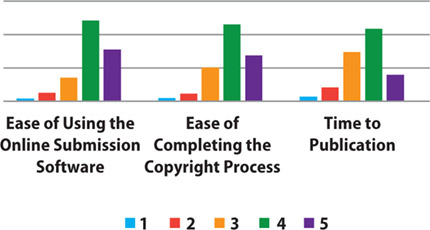 ---
To all those who participated in our short survey, we thank you for your continued support and interest in YOUR journal!
If you didn't get a chance to tell us your views on the directions for our journals in this survey, please drop us an email (This email address is being protected from spambots. You need JavaScript enabled to view it. ).
we would love to hear from you — the journal is for you, so please help us make it increasingly useful for your work

Jeremy R. Chapman
Editor-in-Chief
Transplantation Journals