International Pancreas and Islet Transplantation Association Update

---
The IPITA is just back from Boston, where we held a high-profile key opinion leader meeting on Stem cell-derived beta cells. The meeting took place at Harvard Medical School from September 18-20, and was jointly organized by IPITA, JDRF, the Helmsley Charitable Trust and the Harvard Stem Cell Institute. Jon Odorico and James Markman, the current President and Secretary of IPITA, designed an intense scientific program; twenty-nine invited speakers addressed the two-day meeting, which was attended by 75 invited participants, including 4 young investigators awarded with a competitive travel grant.
The sessions comprised of invited lectures and panel discussions on a variety of topics related to stem cell therapy for type 1 diabetes. After a kick-off state-of-the-art session on beta cell differentiation, topics including functional assessment, genetic engineering and its hazards, immune responses, and transplant sites were addressed during the first day. On the second day, encapsulation technologies and animal models were discussed, before concluding the meeting with two sessions reviewing the regulatory issues and clinical targets.
The meeting comprehensively covered all aspects, issues, tools and perspectives of stem-cell derived therapy for type 1 diabetes. The high standard of the invited lectures was matched by the very active participation of the delegates and the lively and in-depth discussions between the floor and the podium. The meeting brilliantly succeeded in bringing together a wide spectrum of stakeholders in the field and in providing a unique forum for exchanging ideas and fostering collaboration. Recordings of many of the presentations will son be available to IPITA and TTS members on the IPITA website.

---
The next IPITA endeavour will be a workshop on definitions of outcomes and success criteria in beta cell replacement therapies. These are critical issues requiring long overdue discussions. The workshop will take place in Igls, Austria on January 28-29, 2017 and will be organized in partnership with EPITA, the European Pancreas and Islet Transplant Association, just before their annual Winter Symposium. The program is being finalized by a committee under the leadership of Michael Rickels, IPITA Councillor. Please visit the Symposium website for more information.
Finally, the IPITA will hold its 16th International Congress in Oxford from June 20-23, 2017. The Congress chairs Paul Johnson and Peter Friend are making sure that cutting-edge science and congenial networking will be offered to participants in this attractive venue.
These programmed events continue to demonstrate that IPITA is a vibrant and thriving Association committed to offering outstanding value to its membership. IPITA looks forward to seeing you in Igls and Oxford!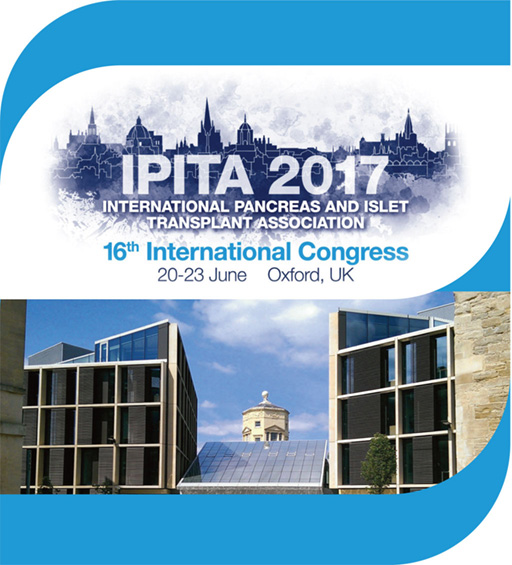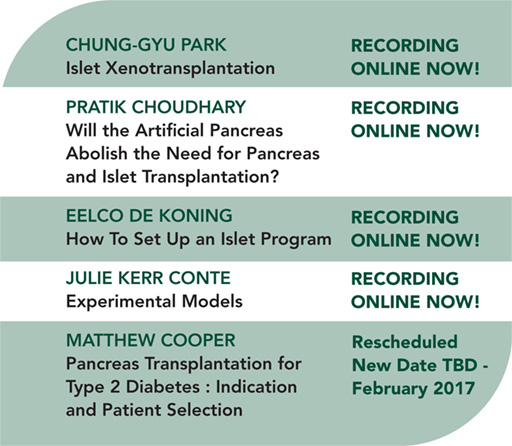 We are in the process of building content for our 2017 series. For questions, comments or ideas, please contact our webinar coordinators Thierry Berney or Barbara Ludwig at This email address is being protected from spambots. You need JavaScript enabled to view it. .