International Pediatric Transplant Association Update

---
The Executive Committee and Council of the International Pediatric Transplant Association (IPTA) are pleased to provide an update of our Association's activities.
Education Committee Update
Chair: Christian Benden, switzerland
Incoming Chair: Rohit Kohli, USA
The Education Committee has continued in 2016 to expand the Society's educational activities co-organizing the biennial IPTA Fellows Symposium on Pediatric Transplantation that took place at Mount Sinai in New York City in April this year with 30 fellows from around the world and an international faculty of experts in the field of pediatric transplantation. The IPTA Fellows Symposium provided updates in a broad spectrum of pediatric transplantation, but furthermore, an ideal environment for networking and mentoring. The Education Committee successfully submitted symposium proposals for the American Transplant Congress in May 2016 in Boston, MA, USA, and contributed to the educational content of a Joint IPTA/TTS Pediatric Post Graduate Course at the 26th International Congress of The Transplantation Society in August 2016 in Hong Kong.
Infectious Disease Care Committee Update
Chair: Upton Allen, Canada
The focus of the ID-CARE initiative is ID Clinical Care, Advocacy, Research and Education. The Committee seeks to engage IPTA members from all disciplines within pediatric organ and stem cell transplantation. The ID CARE Committee has been involved in several initiatives, some of which have been published in Pediatric Transplantation (curriculum-related documents). In keeping with this approach, the group is currently working on a document that focuses on the evaluation and management of transplant candidates or recipients with recent active infections (authors Arnaud L'Huillier, Upton Allen and Michael Green). The group has also identified the following projects which are at varying stages of completion:
Status of Use of Live Vaccines After Pediatric
Solid Organ
Chair: Klara Pofsay-Barbe
Pneumocystis Prophylaxis Strategies Across Transplant Centers
Chair: Mignon McCulloch and Marian Michaels
Tuberculosis and Transplantation:
A Pediatric Perspective
Chair: Mignon McCulloch
9th Congress of IPTA
Barcelona, Spain, May 27-30, 2017
Chair: Anne I. Dipchand, CANADA
Program planning is well underway and we are thrilled with the response and enthusiasm of our invited speakers! Look for the preliminary program online. Collaboration is an important part of the IPTA 2017 Congress. On the springboard of our partnership with TTS, we have actively pursued opportunities to partner with other transplant organizations. It is important that we all work together as a community to advance the science and practice of transplant medicine, especially the pediatric component through IPTA. The Barcelona Congress will showcase collaborative sessions between IPTA and the following organizations: American Society for Histocompatibility & Immunogenetics (ASHI); American Society of Transplantation (AST), American Society of Transplant Surgeons (ASTS).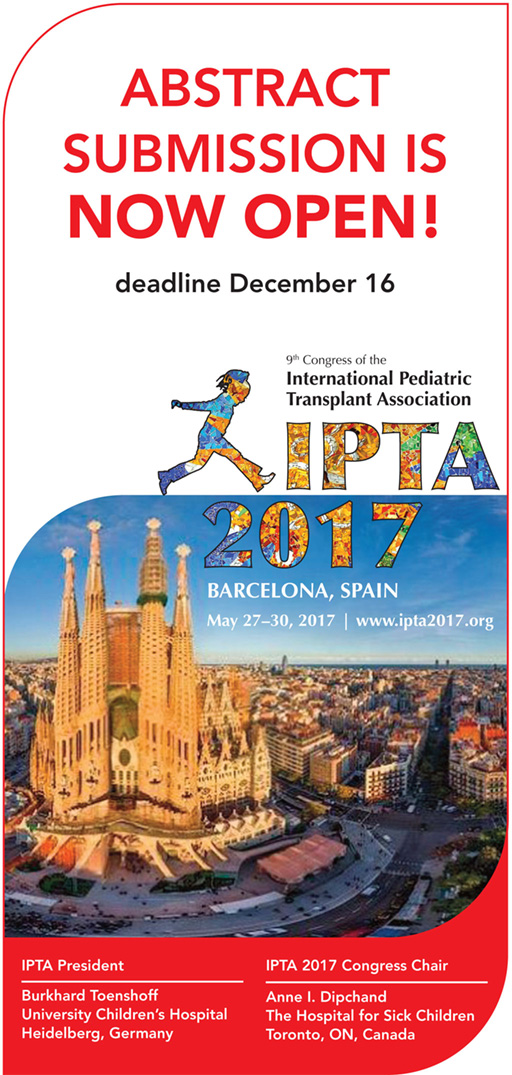 s