President's Message

---
TTS leadership is actively developing the TTS Transplantation Leadership Series with the generous support of Sanofi. More than 80 applicants from throughout the world applied for this inaugural series. Twenty-five individuals were chosen for the initial group. We plan a series of webinars covering topics including transplantation ethics, partnership development, basic accounting, conflict management, industry relations, data analysis, grants and publishing.
Participants are tasked with developing a project to be achieved over the course of the series under the mentorship of TTS leaders. We hope that this effort represents the first of many years of activity to help develop the next generation of leaders in transplantation.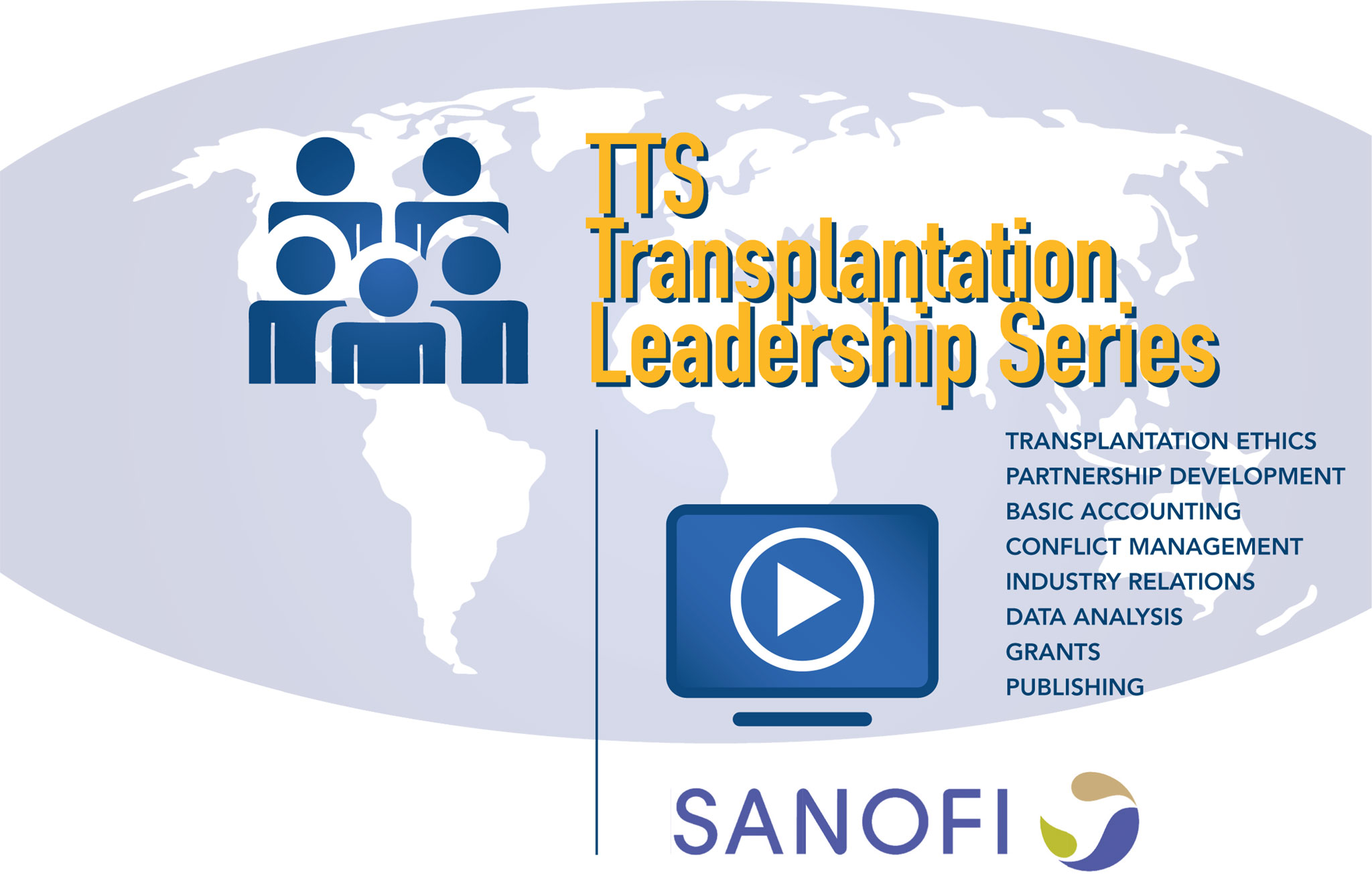 By now, you will have received issues of our new weekly newsletter called Tribune Pulse. As we are all increasingly bombarded with a deluge of emails, some of our members have complained that they cannot keep up and, in many cases, either automatically delete our emails or their institution's server does it systemically. So we wanted a vehicle that consolidates communication to our members, rebuilds some trust in TTS communications and establishes a frequency that is both acceptable (once a week) and predictable (every Wednesday).
In addition to the weekly mail-out, we will have this material in a news section of tts.org for easy reference. We think this approach will provide a better integration and consolidation of news in a timely fashion, but we look forward to your feedback in the coming months. We are also proud to have four Senior Editors and a number of guest editors who have volunteered to assist with the development and vetting of content. They will be identified in each of the issues.
PAST & UPCOMING ISSUES
March 1, 2017


1ST ISSUE OF PULSE


Senior Editors
VIEW
March 8, 2017


TRANSPLANTATION JOURNAL


Gillian Hughes
VIEW
March 15, 2017


VACCINATION AND SOLID ORGAN TRANSPLANTATION


Armelle Pérez-Cortés Villalobos
VIEW
March 22, 2017
VIEW
March 29, 2017
VIEW
APRIL 5, 2017


LIVER, PANCREAS AND KIDNEY TRANSPLANTATION OUTCOMES


Marcio Chedid
VIEW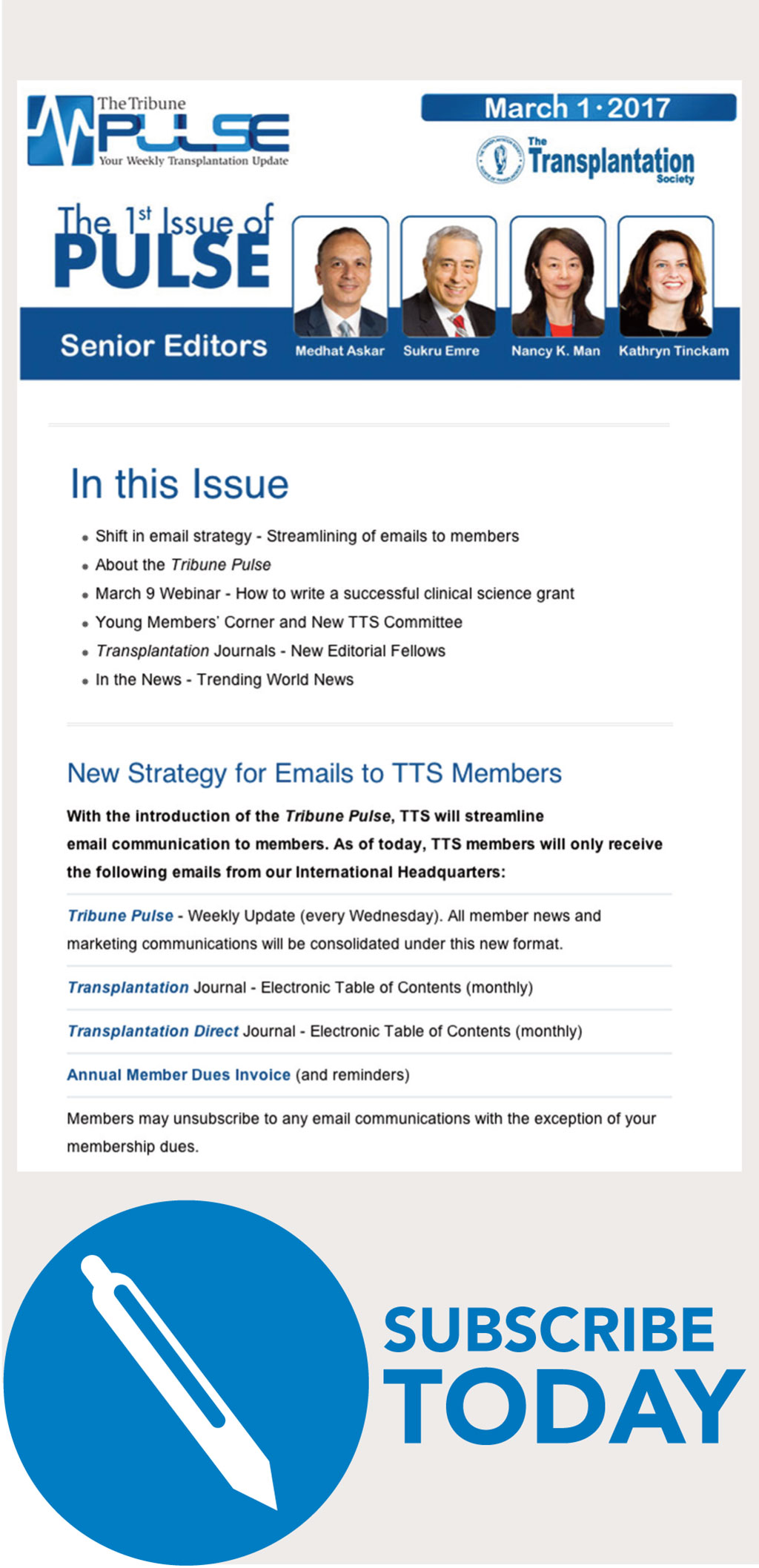 As the issues in anesthesia and critical care as well as heart and lung transplantation are becoming more and more complex, we have decided to create separate TTS Committees to address these issues and ensure focus and direction for all TTS members in this area. A list of members of these and other committees can be found at www.tts.org/about-tts-5/committees.
We wish to ensure we meet your needs as members of TTS and so, if you have any thoughts on how best to improve our services to you, or how you could be more involved in the Society, I would very much like to hear from you at This email address is being protected from spambots. You need JavaScript enabled to view it.
Efforts are underway for the planning of the 2018 TTS Congress in conjunction with the Sociedad Madrilena de Trasplante and the Sociedad Espanola de Trasplante. Dr. José Maria Morales is serving with me as the Congress Vice-Chair and Valentin Cuervas-Mons as Finance Co-Chair. We have also brought together a high-profile Scientific Program Committee under the Chairmanship of Philip O'Connell to develop an exciting agenda with a wide range of topics to interest everyone. Since Spain has set the bar for organ procurement, it is a most fitting
site for the 27th International Congress of The Transplantation Society.

n a final note, Dr. Francis Delmonico, in his role as a member of the Pontifical Academy of Sciences was instrumental in organizing a global summit concerning Organ Trafficking and Transplant Tourism in the Vatican City in February 2017. The purpose of this meeting is to raise awareness of this global problem and bring a group of stakeholders together to address the underlying issues. A report of this summit follows in this issue of the Tribune, and the full statement of the summit and the participant list can be found on the TTS website.