President's Message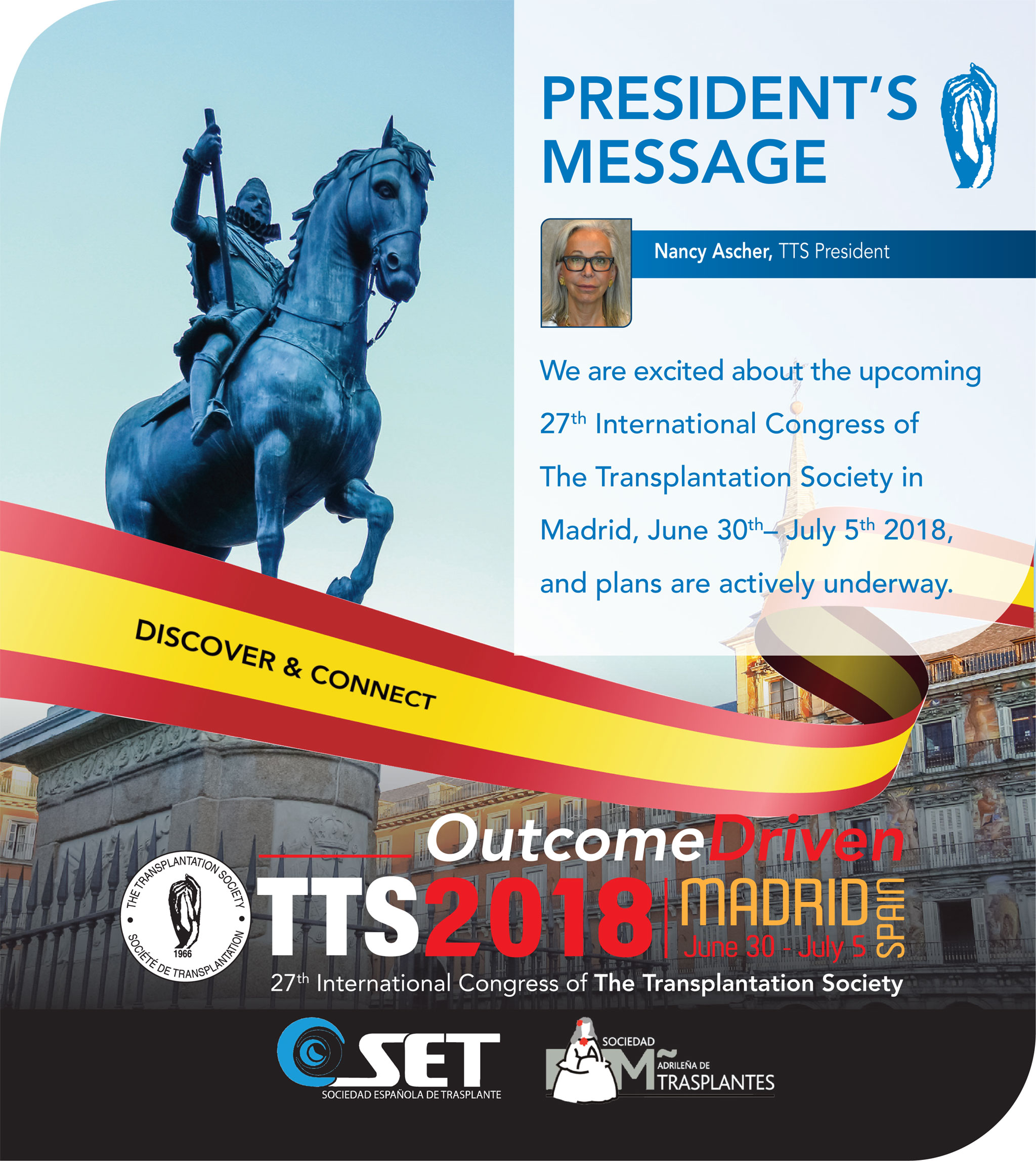 The themes of the meeting reflect TTS' commitment to an outcome-driven approach to transplantation. The meeting will provide an opportunity for members to meet and connect with colleagues and mentors.
To this end, program chair Phil O'Connell is developing a vibrant program with the active participation from TTS Section leaders and representatives of Sociedad Espanola de Trasplante (SET) and the Sociedad Madrilena de Trasplante (SMT).
The pre-meeting days of June 30th and July 1st will be busy. Not only are we holding the always popular post-graduate course, but SET has elected to have their annual meeting during these two days. In this way, our Spanish colleagues will be able to enjoy both the SET and the TTS congresses. During these pre-meeting days, we will also benefit from sessions from the Transplant Infectious Disease Section, the Declaration of Istanbul Custodian Group and the International Transplant Nurses Society (ITNS). Other workshops planned include International Pancreas and Islet Transplantation Association (IPITA), Xenotransplantation and Virtual Global Transplant Lab (vGTL).
We are in the process of determining topics and speakers for State-of-the-Art Symposiums that are proposed by special interest groups with TTS – We welcome suggestions of topics and speakers.
Madrid provides a vibrant, exciting meeting site with incredible troves of art, great architecture, fantastic food and near perfect weather.
We look forward to seeing you all in Madrid!
PLENARY SESSIONS INCLUDE
IMPROVING PATIENT OUTCOMES: ORGAN DONATION –
a celebration of the Spanish achievements in science and in improving deceased donation
FUTURE DEVELOPMENT IN TRANSPLANTATION –
from Immunotherapy to tissue engineering which will take lessons from cancer immunotherapy into the transplantation area and the growth of organs for transplantation
THE VALUE OF BIG DATA IN TRANSFORMING MEDICINE AND TRANSPLANTATION