Heart & Lung Committee

There was a noted limited attendance from the Heart and Lung transplant community at the 26th International TTS Congress in Hong Kong last year. Therefore, during the TTS Council meeting which took place in Vancouver this past March, the case was made to form a separate Heart & Lung Committee with regard to giving the field relevance, opportunity, and representation under a broader umbrella of the Society. Notwithstanding the presence of the International Society of Heart & Lung Transplantation (ISHLT), the smaller European Society of Heart & Lung Transplantation (ESHLT), the growing European Society of Transplantation (ESOT), and multiple dedicated national HLT societies, the benefits of cross-discipline academic and clinical dialogue on a global scale have been very much under-estimated. A trend towards centralization of clinical transplant services and an increasing number of combined-organ transplants have forced a necessarily closer and relevant collaboration between separate organ transplant units. At an international level, there are obvious opportunities for:
learning from each other;
establishing clinical and research collaborations; and,
creating additional networks for mentorship and training.
One of the major advantages of TTS is in its ability to authoritatively represent all the diverse clinical transplant views and activities. To this end, it remains the organization with the strongest relationships with governments and important international agencies such as the WHO.
The Executive Committee unanimously approved the need for a Heart & Lung Committee. This affiliation is working well for the larger disciplines of kidney and liver transplantation, where the biennial TTS Congress serves as an additional forum for greater inter-disciplinary collaboration without conflict with the work of individual organ-specific societies. A key advantage of the TTS Congress is in the thematic sessions with input from all the organs such as for machine perfusion or immunosuppressive strategies. Similarly, the Society's journals Transplantation and Transplantation Direct, provide significant academic platforms for a timely publication of manuscripts, including those that would benefit from or are aimed at a wider audience in the transplant community.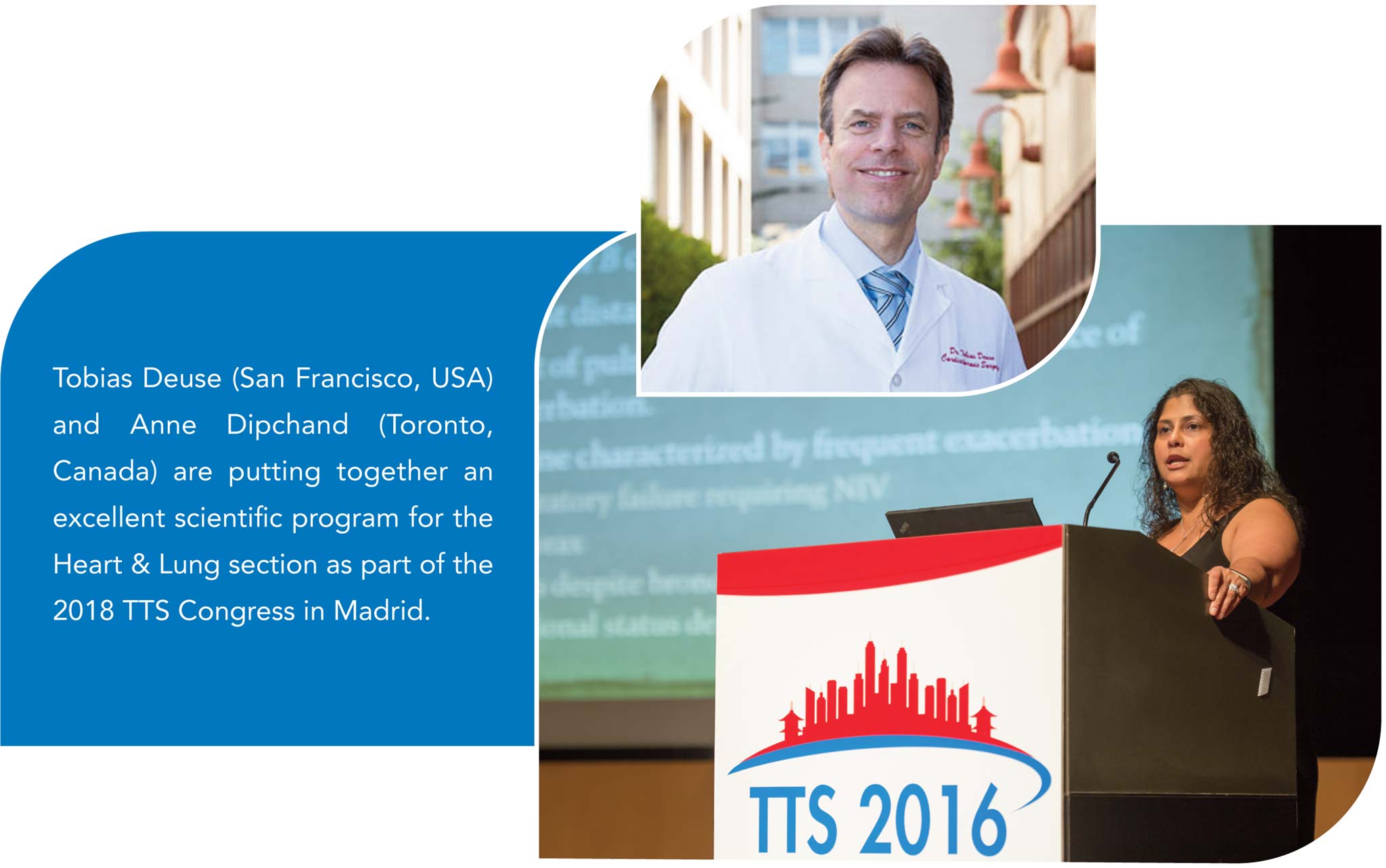 The Heart & Lung Committee will have global geographical representation and informal canvassing of opinion suggests considerable interest in its membership. Anyone with enthusiastic interest to join this committee and contribute to its activities should send a brief bio to This email address is being protected from spambots. You need JavaScript enabled to view it. by 15th August 2017. The new committee will be announced by end of August. This leaves two and a half months before the abstract submission deadline of November 15th for next year's 27th International TTS Congress in Madrid, Spain.
Although many TTS members have registered interest in the Heart & Lung section of the congress, very few are actually from the discipline. The Committee therefore asks the abdominal transplant community to encourage their colleagues in Heart & Lung transplantation to seek membership in both the Society and the Heart & Lung committee.
We hope to build on this foundation and have a bigger presence at the Madrid congress next year, for which Tobias Deuse (San Francisco, USA) and Anne Dipchand (Toronto, Canada) are putting together an excellent scientific program for the Heart & Lung section.