Education Committee

After a two-year stint and a seventeen-episode webinar module, the Advanced Renal Transplantation Interactive Teaching Series has reached its successful conclusion. With almost a thousand accesses and over fifty international speakers under its umbrella, its content was appreciated worldwide and will be a part of the TTS archives for future viewing. The Working Group who devoted time to designing the content and delivery will begin other organ-specific modules later in the year.
The Committee has renewed its commitment to educate schoolchildren about organ donation and transplantation. The Committee has recently entered a partnership with the Dutch Transplant Foundation and the Canadian Society of Transplantation to elaborate content and strategize a core curriculum. The aim of the 17 members of the group is to address students' curiosities and concerns from as early as 10 years of age. After seeing the success from London, Ontario and in The Netherlands, the Working Group has a vision of conquering worldwide distribution for its content with the help of ongoing partnerships. When asked about the partnership, the Dutch Transplant Foundation stated, "We are enthusiastic and proud that TTS showed their interest in our educational program, Donorwise, for ages 12 to 20. We're looking forward to a fruitful collaboration and outcome".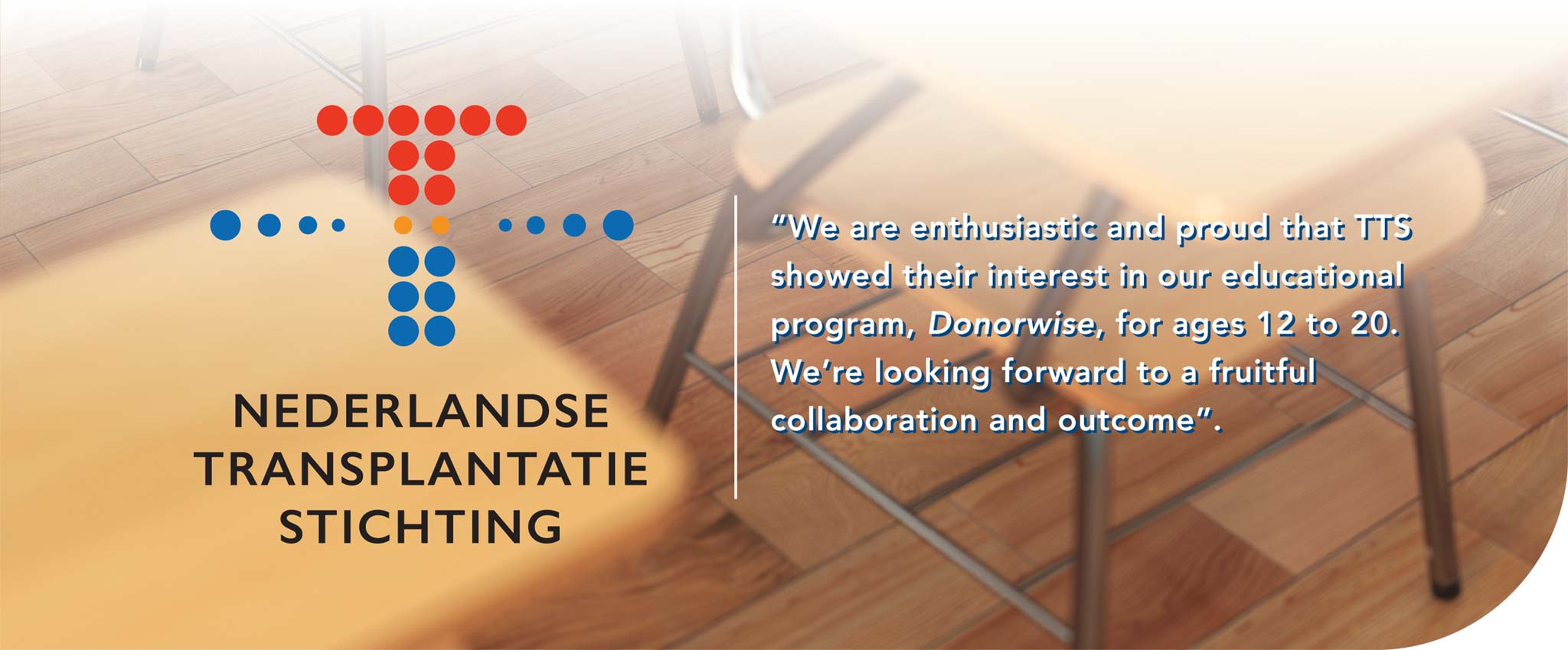 Alongside these activities, the Committee has devoted time to reaching out and forming partnerships with like-minded societies and associations. Among them, the International Transplant Nurses Society (ITNS) and the Committee have formed a specific Working Group to echo the need of educating nurses crossing over to transplantation from other fields. A Transplant Nursing 101 curriculum will be crafted to address both nurses' and doctors' needs on topics such as transplant immunology, pharmacology, post-transplant complications, and organ-specific basics to learn from. The Working Group is planning to launch the curriculum at a Pre-Meeting Symposium to take place at TTS 2018 on July 1, 2018 in Madrid.
The World Transplant Games Federation has also entered a partnership with TTS to promote patient wellness. The Working Group is comprised of allied health professionals, physicians and professors as expert advisors in providing insight on how to promote a culture of wellness in transplant recipients. This Working Group will also present a variety of topics during a Pre-Meeting Symposium at TTS 2018 addressing transplant recipient needs from their point of view.