Get online first with Transplantation Direct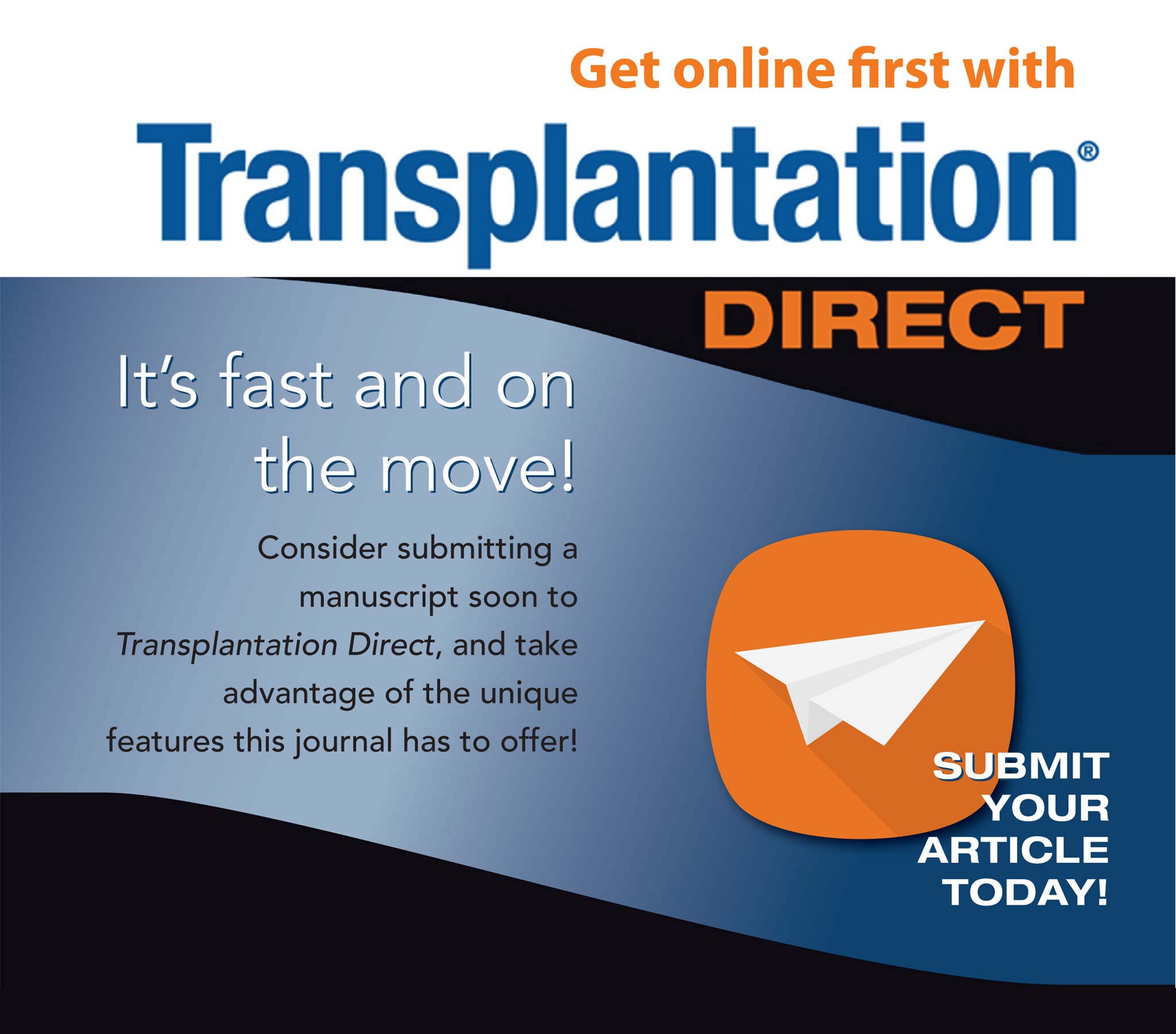 With the latest July 2017 issue offering 18 articles, Transplantation Direct is an early success story that already promises to fill a niche in the transplantation publication arena. Its close affiliation with The Transplantation Society and the most cited transplantation journal, Transplantation, has quickly boosted awareness of reliability and credibility. Indeed, our internationally known Editorial Board has worked very hard to establish the fundamentals necessary for building a respectable new journal in a competitive field. Importantly, Transplantation Direct offers an extraordinarily efficient review process, averaging a first decision in just over 2 weeks after submission (16.4 days). Manuscripts undergo a thorough selection process before being sent for review in Transplantation Direct, ensuring an uncompromised level of quality. Recognition of this quality is steadily bringing more submissions each year, with global submissions already from 19 countries in 2017, resulting in a continuous upward trend in the number of published articles (averaging 8 per month thus far in 2017). Staying with the times to maximize article exposure, the journal's Twitter @TXPDirect has a growing presence.
Adding to the attraction, besides standard article types, Transplantation Direct also offers other article formats including for new methodologies and registry/society meeting reports, as well as encouraging brief, preliminary reports of especially interesting early experimental or clinical results; the latter article type, together with the fast review and publication time, allows extraordinarily rapid reporting of important early results with the added plus of completely open access availability. Steady development over the 2 years since its launch brought an early positive assessment from indexing authorities in August 2016, resulting in all articles, starting from the first issue, available and fully searchable on PubMed Central (indexed on PubMed). Transplantation Direct is now also indexed in the Directory of Open Access Journals, which is your assurance that the journal has been deemed a legitimate open access journal.