China Delegation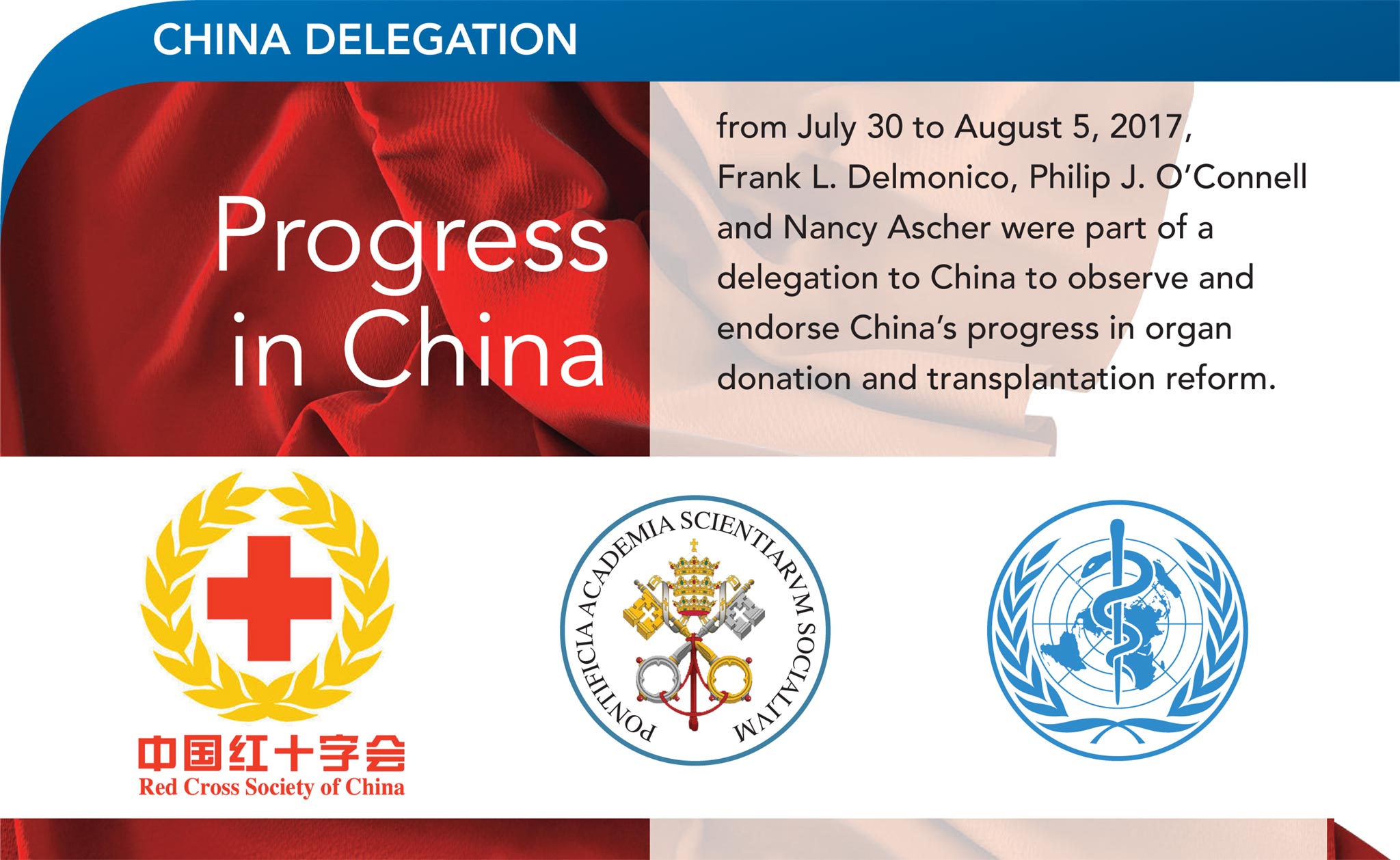 The group of TTS leaders was joined by Marcelo Sorondo, the current Chancellor of the Pontifical Academy of Science and Pontifical Academy of Social Sciences, Vatican City; and Dr. Jose Ramon Nunez from the World Health Organization. Dr. Campbell Fraser, an expert on the international human organ trade from Griffith University, Brisbane, also joined the group.
Drs. Nunez and Ascher met with the Director of the Chinese Red Cross who clarified the Chinese Red Cross position on aid to deceased donor families; the aid is need-based and unrelated to whether or not a donation process proceeds to a successful retrieval. A subsequent meeting with the entire delegation and the Chinese Ministry of Health reinforced the Chinese Government's commitment to both reform in China as well as an interest in improving organ donation and transplantation activity and outcome in neighboring countries.
Chancellor Sanchez Sorondo presented the recommendations of the Pontifical Academy of Science (PAS) Summit Consensus Statement on Organ Trafficking and Transplant Tourism, which was endorsed by the PRC National Health and Family Planning Commission at meetings in Beijing and Kunming. Dr. Nunez presented the WHO framework for responsible transplantation and concepts of national self-sufficiency. Drs. Ascher, Delmonico and O'Connell offered The Transplantation Society's commitment to assist in China's development of an ethical organ donation, procurement and allocation program, and reiterated the Society's ethical principles regarding organ donation and transplantation.
The Chinese Model of organ transplantation, as described by Professor Jiefu Huang, Director of the China National Organ Donation and Transplantation Committee, became fully operational when the Fourth Plenary Session of the 18th CPC Central Committee announced in December 2014 that, beginning January 1, 2015, China would cease using organs from executed prisoners. The National Organ donation and Transplantation Committee consists of five branches; organ donation, organ procurement and distribution (through COTRS), the medical system for organ transplantation, organ registration after transplantation and organ transplantation supervision. These activities are coordinated through the Red Cross, China Transplantation Development Foundation, Chinese Hospital Association, Chinese Medical Association and Chinese Medical Doctor Association, China Organ Donation Administrative Center, China Organ Transplant Response System (COTRS) and Organ Procurement Organization. The "Green Channel" has been developed to facilitate human organ transportation. In 2016, there were 4080 deceased donors. The rate of deceased donation for the current year (2017) to the date of the meeting represents a further increase of 33%.