Transplantation Science Committee: A Busy and Memorable Agenda
NEW! The Kathryn Wood
Transplant Science International Fellowship
We are pleased to present a new Transplant Science Committee initiative: the Kathryn Wood Transplant Science International Fellowship. This special award, named in recognition of Professor Wood's contributions to the science of transplantation immunology, includes $10,000 USD and a special award plaque. This award will be given every two years and coincide with the annual TTS Congress.
The objective of the award is to provide support for a transplant science trainee, either basic or translational, in the development of their area of research and aid cross fertilization of ideas and networking within the transplant science community. The award will equally support female and male trainees in both clinical and basic transplant research, and reflect the regional scope of the TTS mission to be a global community. Both the Fellow and recipient laboratory leader must be TTS members. The intention is not to fund a research project or provide support for already established collaborations, but to facilitate new interactions and training opportunities by providing financial support towards airfares, visas and accommodation. The duration of a Fellowship is expected to be approximately 3 months.
The ESOT Basic Science Meeting
This year the TTS Transplant Science Committee is co-sponsoring the ESOT Basic Science Meeting in Rotterdam, Netherlands in the Fall of 2018. This will be a very interesting meeting covering hot topics in transplantation science, including genome editing, ischemia-reperfusion injury, stem cell therapies, and gender differences in transplantation.

Transplantation Science Symposium
Asian Regional Meeting
Later this year we look forward to the TSS Asian Regional Meeting to be held in Taipei Taiwan (November 23rd to 25th 2018). This exciting meeting, co-hosted by the Transplantation Society of Taiwan and TTS, is held every two years and represents a great opportunity for people in the region to hear and understand the results of the latest basic transplant research as well as network with international colleagues. More information can be found on the website www.tss2018taiwan.org with further updates as the meeting draws closer.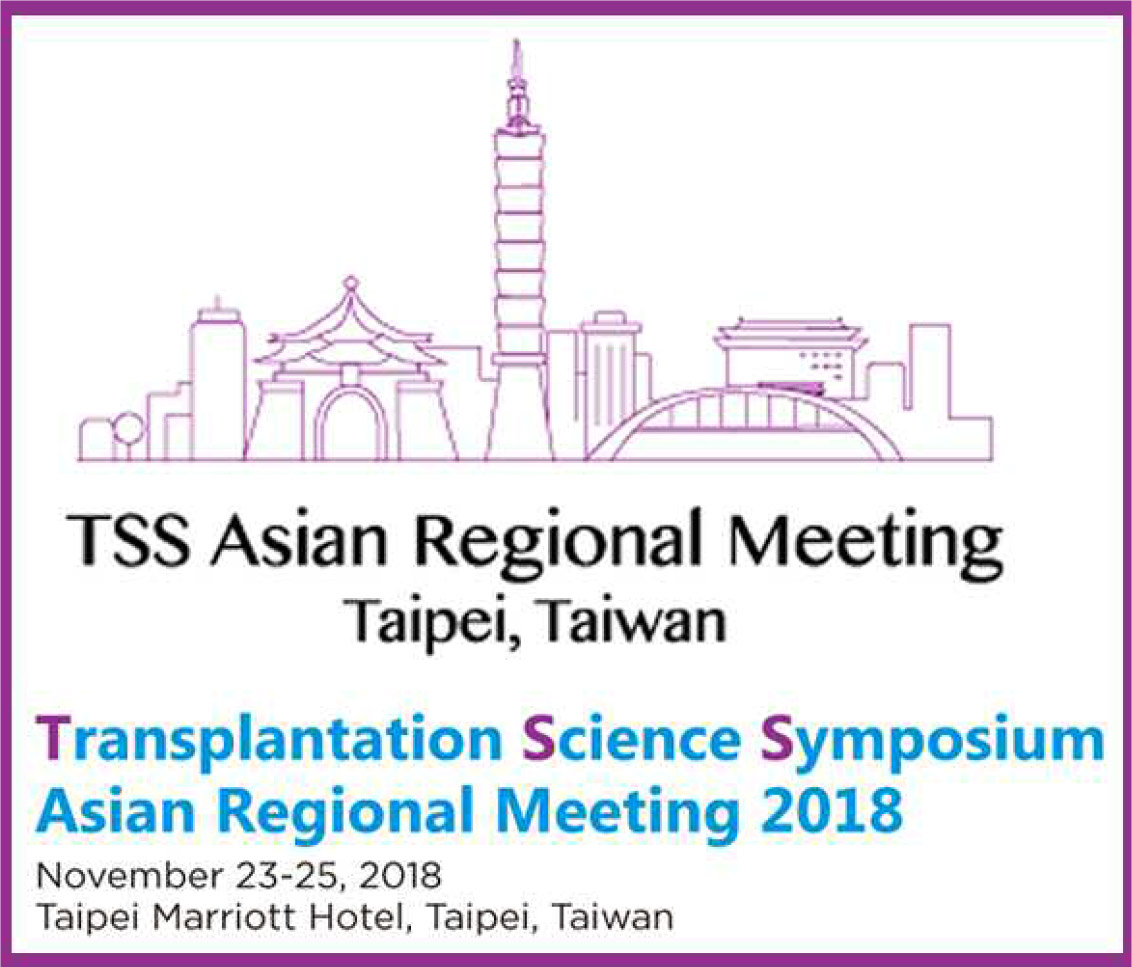 TTS Madrid 2018
We look forward to the upcoming TTS Congress in Madrid, at which excellent educational programmes have been planned during the Post-Graduate Courses and the virtual Global Transplantation Laboratory Pre-Congress Workshop. Sign up today!