2017 Transplantation Awards

The Brent and Monaco Awards
Once again, the deadline is fast approaching for nominations for Leslie Brent Award and the Anthony P. Monaco Award. Named after two pioneering giants of the transplantation field, one award is made to the best basic science paper (Brent Award) and one award is made to the best translational science paper (Monaco Award) published in the TTS journal Transplantation. The selection committee includes editors of Transplantation in addition to members and Chairs of the Transplantation Science Committee. These are highly competitive awards and will be presented to the successful awardees at the 2018 TTS Congress in Madrid.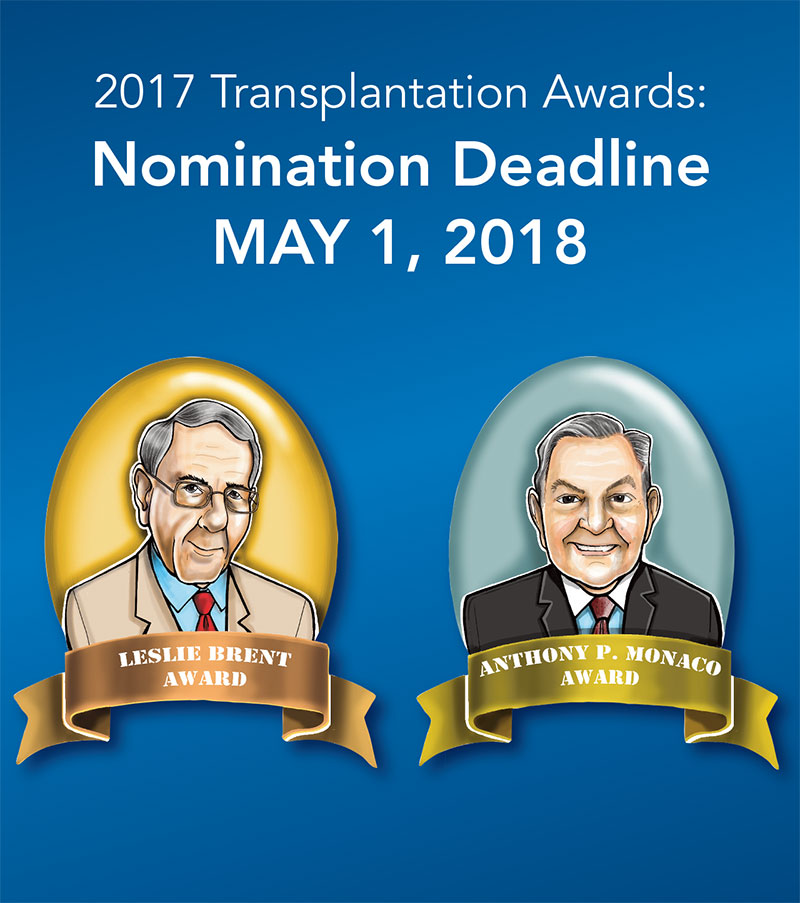 2016 AWARD WINNERS
The Leslie Brent Award
High-Fat Diet-Induced Obesity Enhances Allograft Rejection
Luciana L. Molinero, et al
University of Chicago, Chicago, IL, USA
Transplantation. 2016 May; 100(5): 1015–1021.
The Anothony P. Monaco Award
Sirolimus Use in Liver Transplant Recipients With Hepatocellular Carcinoma: A Randomized, Multicenter, Open-Label Phase 3 Trial
Edward K. Geissler, et al
Universität Regensburg, Germany
Transplantation: 2016 January; 100(1): 116–125.
We congratulate all authors on their achievements. Both manuscripts are freely available at TransplantJournal.com