A Global Presence - National Workshop of Transplant Coordinators
---
From February 28 to March 2, 2013, representatives from the Indian Society of Nephrology, the Indian Society of Organ Transplantation, MOHAN Foundation, WHO, TPM- Spain along with senior consultants in the field of transplantation and transplant coordinators met in Delhi, India at the National Workshop of Transplant Coordinators. Organized by TTS and funded through an educational grant from Panacea Biotec, the workshop deliberated various aspects of deceased donation and produced a consensus document of recommendations for expanding deceased donation and ethical proprieties in living organ transplantation. It was acknowledged that the solution to organ shortage and achievement of self-sufficiency in organ donation for all states in India is possible only through systematic strengthening of the deceased donor program.
Dr. Jagdish Prasad, Director General of Health Services, Government of India, inaugurated the workshop and gave the keynote address, offering his congratulations and assurance of his full support in giving a boost to the deceased donation program in the country.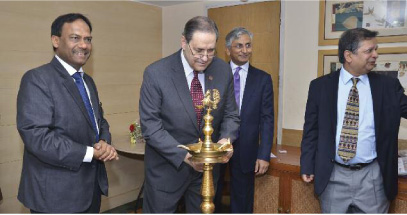 from left to right: Jagdish Prasad, Francis L. Delmonico, Vivekanand Jha
and Sunil Shroff take part in the Inauguration (Lamp-Lighting) Ceremony
The covered topics ranged from the role of Government organizations, hospitals and NGO's in establishment of the deceased donor program in a hospital and the medico-legal aspects related to the Transplantation of Human Organs Act 1994 (THOA 1994) and its amendments. Specific emphasis was placed on practical training by conducting role playing on grief counseling, public education programs, and documentation related to organ donation and transplantation. Sharing personal experiences during the interactive sessions provided valuable insights to the delegates and underscored reasons why deceased donation has been slow to gain foothold in India. The program also included interactive sessions with intensivists to highlight their role in promoting deceased donation.
The consensus document contains the following recommendations, to be implemented through the offices of the Director General of Health Services:
Health Secretaries/Directors from all states to participate in a meeting to discuss how to implement deceased donation programs;
dissemination of the deceased donation pathway and brain death audits in all ICUs in hospitals registered as transplant/retrieval centers;
review of deceased organ donation performance annually;
making continuation of living donor transplant programs contingent on meeting certain performance measures for deceased donation;
mandating all hospitals with >10 ICU beds have a Hospital Organ Donation Committee that would review the brain death audits;
mandating all hospitals with >10 ICU beds require intensivists to participate in continuing medical education or certification course in the determination of brain deaths and measure referrals to the Transplant Coordinator;
provide free access for the Transplant Coordinators to ICU's under the direction of the Hospital Organ Donation Committee;
implement uniform standard operating procedures for brain death determination, post mortem and police clearance should be issued for guidance to all hospitals;
require compliance with the Required Request clause in the amended THOTA;
mandatory national/regional registry of all living and deceased donors;
create a tracking system for human tissues and mandate quality control measures;
creation of a certification authority for tissue banks;
providing educational courses for Hospital staff and Medical Social Workers recognized by the MOHFW for training and certification of Transplant Coordinators;
disseminating protocols of organ donation based on the experience of the MOHAN Foundation activity that could be used as a reference guide in the implementation of these recommendations.