In Memoriam - Carl-Gustav Groth
---
Carl-Gustav Groth (1933-2014)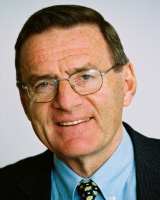 Carl-Gustav Groth, Professor in Surgery, especially Transplantation Surgery at Karolinska Institutet 1983 – 2000 passed away on Sunday, February 16th.
Carl-Gustav Groth was born in Helsinki 1933. As a child, he moved with his parents to Stockholm. He received his MD at Karolinska Institutet in 1961. Thereafter he worked at the Department of Surgery, Serafimer Hospital, Stockholm, Sweden. He obtained his PhD degree in 1965 on a thesis regarding the importance of erythrocyte aggregation in trauma. In 1964, Professor Curt Frankson had performed the first renal transplant in Sweden. Curt Frankson suggested that Carl-Gustav Groth should focus on transplantation surgery. C.G. Groth received a fellowship in 1966 to study transplantation surgery at University of Colorado in Denver with Thomas Starzl as Chief Surgeon. In 1967, Starzl performed the first successful liver transplantation in man and C.G. Groth participated in the team as Starzl's right hand. At Karolinska Institutet, a new teaching hospital, Huddinge Hospital, was opened in 1972 and it was decided that a Transplantation Clinic should be placed there. Curt Frankson was awarded the professorship in surgery at the new hospital and he called for C.G. Groth from Denver to return and build up transplantation surgery at his clinic. With his organizational skill, Carl built up an excellent ward, organized perfectly in every detail. He also built up a network with friends from a number of other departments, such as Nephrology, Anesthesia- and Intensive Care, Laboratory disciplines, Radiology Department, Clinical Immunology, so that all his patients would get the best available service.
He also built up an intensive research collaboration within the clinic together with other departments at Karolinska, and also internationally. In Sweden, C.G. pioneered pancreas transplantation (1974), bone marrow transplantation (1975), liver transplantation (1984) and pancreatic islet cell transplantation (1998). An investigation performed at Huddinge Hospital found that the Department of Transplantation Surgery under the leadership of Carl-Gustav Groth was the most successful department at Karolinska Huddinge. He had an interest in using transplants for the treatment of inherited metabolic disorders. He was the first to show that Gaucher's disease could be cured by allogeneic hematopoietic stem cell transplantation. In 1983, he became Professor of Surgery, especially transplantation surgery at Karolinska Institutet. He was a visionary and productive clinical scientist and wrote more than 500 scientific publications. He has been cited more than 17,000 times since 1995. He was an inspiring mentor and teacher and he was the tutor of 39 PhD dissertations. His pioneering work in transplantation has helped thousands of patients, not only in Sweden, but worldwide.
He was a member of the Nobel Assembly 1986 – 1999. In 2001 to 2002, he was the President of the Transplantation Society and in 2006 he received the Medawar Prize for his achievement in transplantation surgery. Due to his research work, he received several prestigious prizes, such as 1998 when he got His Majesty the King of Sweden's Medal of the 8th size. He received the Indian Transplantation Award, the Maharshi Sushruta Award. He also received a Transplantation Ward named after him at the clinic in Ahmedabad, India. The Carl-Gustav Groth Lecture within the Swedish Society of Transplantation Surgery was created in his honor. So was the Carl-Gustav Groth Prize in Transplantation Research by Scandinavian Transplantation Society. He was recently honored by receiving the American Society of Transplant Surgeon's Pioneer Award.
In his writing, he was excellent and a perfectionist. He rewrote the articles until he was satisfied and it was a master piece. He had a great demand on his staff, but the greatest demands on himself, and he served as a good example to all of us. Carl had a great piece of humor and a witty tongue. He often made us laugh and could get a whole congress audience to laugh. He was an outstanding lecturer and he was always very well prepared. Working with Carl was like a scout adventure. Carl was social and good company. He read a lot and was willing to teach us in an entertaining way what he knew. He taught us that the most exciting thing was to be doing research in the medical frontline. He also said that "it is more fun to work than to have fun".
His big interest apart from transplantation was offshore sail-racing. Many of his younger colleagues had the pleasure and privilege to serve as a crew on his yachts (The Supernovas). Later, he won the Baltic Race with a Supernova by the famous Swedish boat constructor Håkan Södergren, with his son Magnus and friends as crew.
Our special condolences to Birgit, his wife, his three children, Johan, Magnus and Helena with their families and Carl's many grandchildren.
We miss a teacher, a mentor, an example, a pioneer and a dear friend. The Nestor of Transplantation Surgery in Sweden has passed away.
---
Bo-Göran Ericzon, Göran Lundgren, Annika Tibell, and Olle Ringdén