IPITA UPDATE
---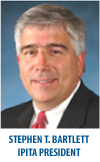 The Association is looking forward to the Transplantation Society meeting in Vancouver August 15-19, 2010. The IPITA section will be represented at the TTS with two symposia, one which includes a reprise of the well received debate on pancreas versus islet transplantation, this time with a with a focus on optimal donor pancreas allocation. There are many outstanding pancreas and islet transplantation abstracts that will complete an outstanding program.
The planning for the 2011 IPITA meeting in Prague is progressing well. Shortly there will be a first call for abstracts. The Prague local organizing committee, led by Frantisek Saudek, has done an excellent job selecting a beautiful hotel and meeting site in Prague. Prague is a beautiful city on the Vltava River in the Czech Republic, and the pictures of the hotel which overlooks the river are quite striking.
The IPITA Council is exploring venue options for the 2013 meetings. Shortly, you will receive from the President-elect, Paul Johnson a notice asking for formal proposal for the 2013 meeting.
Over the next year, the Council will work on expanding Association membership and re-designing the IPITA web site with scientific content, a list of members and links to diabetes related content. Our goal is to expand the visibility of the Association internationally serving the scientific growth and expansion of pancreas and islet transplantation. We will work to increase the exposure and broad participation in upcoming events.
Finally, we are re-designing the IPITA corporate logo and the Council is working with the TTS leadership to bring IPITA under the TTS corporate umbrella.
TTS Meeting Vancouver August 15-19, 2010
IPITA Meeting, Prague June 1-4, 2011