General Information
Electricity
Voltage is 220V, 50 Hz (cycles). The electric plug has two round pins, as shown in the picture below.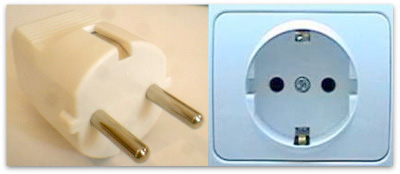 Currency & Bank/ATM
The currency used in Spain is the Euro (€).
Banks and currency exchange offices are located around the city, and ATMs are found in various places throughout Barcelona, including the train stations and airport.
Insurance
Neither the congress organizers, nor TTS, nor IPTA, will accept liability for personal injuries sustained, or for loss or damage of property belonging to congress participants, either during, or as a result of the meeting.
Participants are advised to take out their own personal travel and health insurance for their trip.
Language
The languages spoken in Barcelona are Catalan and Spanish. The official language of the congress is English. Simultaneous translation will not be provided.
Barcelona Tourism have translated some of the most frequent Catalan expressions into Spanish, English and French, to help you get around the city. Download their vocabulary list here