IPTA July 2019 Newsletter

Welcome Message from Dr. Mignon McCulloch
Dear IPTA members and attendees of the IPTA 2019 Congress,
We would like to thank you for your part in attending and participating to make the IPTA 2019 Vancouver Congress such a hugely successful Congress and opportunity to network with friends and colleagues in the beautiful city of Vancouver. Learning in such a beautiful environment was not a hardship.
If you didn't get the chance to join this time around, we hope that you can join us in Prague in 2021. Furthermore, if you are a member of IPTA, you can access the recordings via our section website. You are able to watch the talks and presentations HERE (member login required).
We would like to share with you some of the interesting facts from this meeting
We welcomed 522 participants from 36 countries.
The Congress started with a special opening address and blessing by Elder Roberta Price.
Totem poles watched over speakers as they shared knowledge with friends and colleagues.
Pre-meeting symposia including a Writing Course workshop, Foundations in Pediatric Transplantation "long-term outcomes" and a first-ever all-day Allied Health Symposium on Improving Outcomes in Pediatric Transplantation took place on May 4.
We remain very grateful for generous sponsorship from UPMC Children's Hospital of Pittsburgh, Astellas, One Lambda, Stanford Children' Health & Lucile Packard Children's Hospital Stanford, Dr. Ken Citron Charitable Trust and Bryce Cormier Memorial Fund as well as all our many collaborating hospitals & non-profit organizations.
PROGRAM HIGHLIGHTS AT A GLANCE
323 abstract submissions from 34 countries
115 invited speakers from 13 countries
6 Plenary Symposia
5 State-of-the Art Presentations
3 Pre-Congress Symposia
16 Interactive Workshops
21 Oral Abstract Sessions
3 Poster Sessions and
2 Morning Industry Symposia
Abstracts were published in Pediatric Transplantation Journal
We look forward to welcoming you to the next IPTA Congress in Prague, Czech Republic. Please mark your calendars: April 17-20, 2021.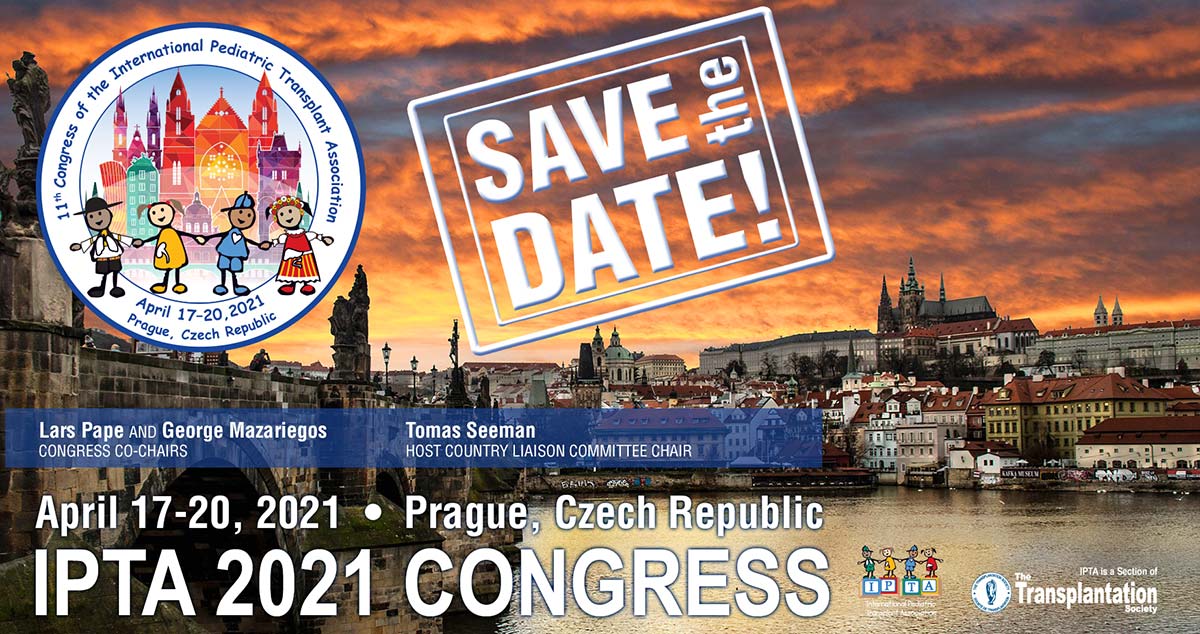 Until then… please remain involved in our organization by looking out for our newsletters, joining us as a member, and visiting our website.
Best wishes,
Mignon McCulloch
IPTA President and IPTA 2019 Co-Chair
Carlos Esquivel
IPTA President-elect and IPTA 2019 Co-Chair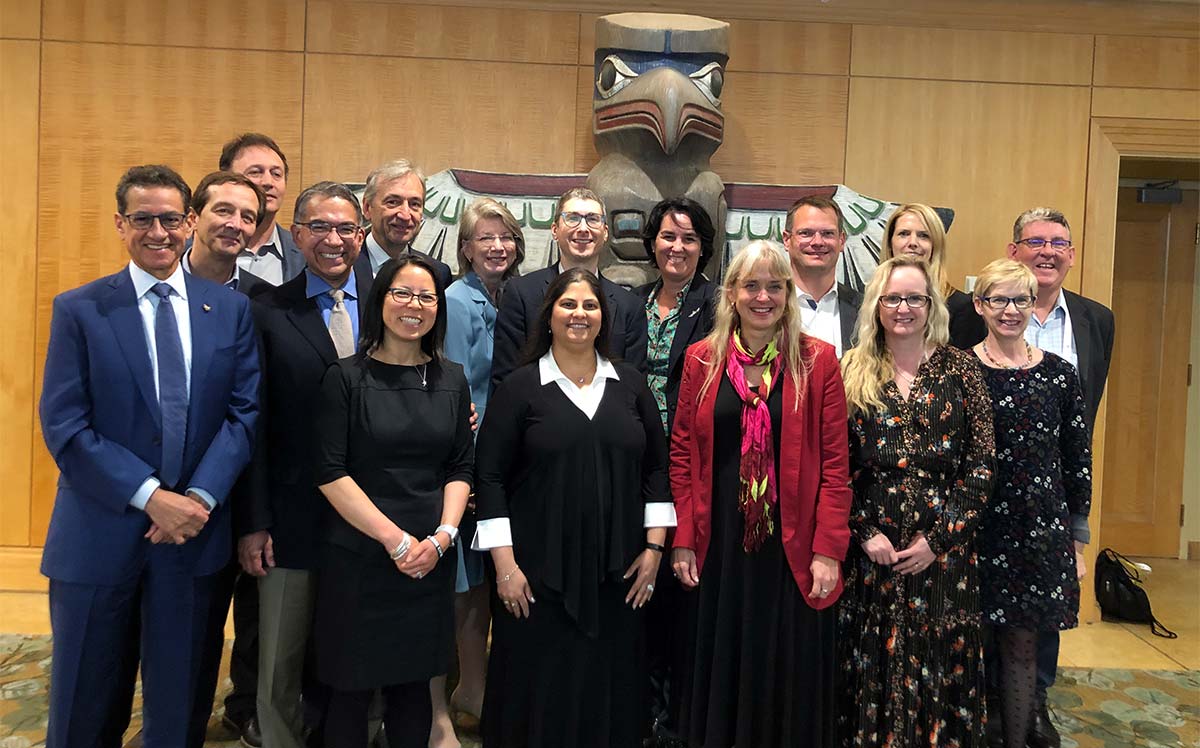 IPTA Council, Vancouver, 2019
Question Bank

Once again our Question Bank returns to keep you on your toes. We thank Alicia Chapparo, Luca Dello Strologo and Stephen Marks for these. Test your skills with these questions.
Ethics Case: Transplantation in children with mental illness

Glenda Moonsamy
Charlotte Maxeke Johannesburg Academic Hospital, Department of Paediatrics and Child Health
University of the Witwatersrand, Faculty of Health Sciences
Johannesburg, South Africa
Case study:
This is a case of a 13 year old boy born with multiple congenital abnormalities of the kidney and urinary tract (CAKUT). He had an absent right kidney, with hydronephrosis and an ureterocoele in the left urinary tract. In addition to this, he was also found to have spina bifida occulta (L5-S3) with a neurogenic, septated bladder. After multiple surgical procedures to reconstruct the bladder and remove the ureterocoele, self intermittent clean catheterization (SICC) was initiated. He also had ADHD, anxiety disorder, delayed neurocognitive function and extreme needle phobia that was being managed with medication and psychotherapy via the neurodevelopment and child psychology unit. Phlebotomy was difficult but regular sessions with the psychologist made the process much easier but unanticipated phlebotomy or interventions were not well received.
At the age of 11 years, he went into end stage kidney disease and by then his mother was being worked up as a renal transplant donor. However, at that time, despite extensive counselling, the child vehemently refused dialysis, opting rather to wait for mum's workup to be completed and a renal transplant be performed. His refusal was such that, to quote his words, "I'd rather die than go onto dialysis"
The mum's workup took longer than anticipated and he subsequently developed complications of end stage kidney disease, and dialysis was indicated. Again, it took a considerable amount of counselling and psychotherapy, but he was successfully initiated onto automated peritoneal dialysis. He was also worked-up, presented to the renal transplant panel and listed successfully for both a cadaver and related donor kidney transplant (a psychological assessment was included).
After being on the cadaver list for approximately one year, our patient was called up for a cadaver transplant. His mum was going through a difficult period, having just lost her dad & they had difficulty arranging transport to the hospital as well, so the kidney was declined. A month later, he was called up again. This time however, he had a psychological breakdown and refused to come to the hospital for the transplant. His mum confirmed that his therapy sessions were not as consistent as they were before.
We have since suspended him from the transplant list and have reconsidered his suitability for transplant. His mum, who was initially very keen on donating her kidney, has also become more apprehensive with respect to her child's psychological state. He continues receiving therapy and dialysis and we hope in time may develop the neurocognitive and psychological maturity required for successful transplantation.
Ethics commentary:
Renal transplantation is associated with significant psychosocial stress both before and after transplantation. Many patients and their families suffer from varying degrees of post-traumatic stress during this period. They all require a significant amount of supportive care, hence the need for a multi-disciplinary team approach.
A child with a pre-existing mental disorder requiring renal replacement therapy thus poses an even greater need for therapy and support. Psychosocial assessments are an essential component of the framework for transplant suitability. There is a paucity of information regarding the transplantation of children with mental illness.
Mental illness in children can be a diagnostic challenge and a childhood diagnosis often confers a poorer prognosis. With respect to transplantation, I think the processes we apply currently, where each child is assessed on an individual basis, seems to be the best approach. The biggest challenges faced are compliance and worsening of the current mental state.
The above case is a glimpse in the arduous journey travelled by the patient, family and health care providers. Transplantation is difficult with the best of patients but in those patients with mental illness, it makes us question the suitability of such patients even if a related living donor is available.
EBV Consensus

The IPTA Infectious Diseases Committee continues to be vested in initiatives in pediatric transplant infectious disease related to Clinical care, Advocacy, Research, and Education (ID-CARE). This year, the committee has been active in providing recommendations regarding the approach to the solid organ transplantation (SOT) candidate with an active infection, pediatric-specific questions related to CMV infection and disease, and in IPTA-sponsored consensus conferences related to live virus vaccination and Epstein-Barr virus (EBV)-associated post-transplant lymphoproliferative disorder (PTLD) after pediatric SOT. The EBV/PTLD consensus conference was a major collaborative effort involving more than 30 participants from the United States, Canada, and Europe organized into 4 working groups addressing the diagnosis, diagnostic tools, management, and prevention of EBV disease and PTLD in children undergoing SOT. These 4 working groups groups held frequent teleconferences to review data in an effort to identify and preliminarily address key questions in advance of the face-to-face meeting which was held in Nashville, Tennessee in early March 2019. At this meeting, participating members of the consensus conference reviewed and tentatively agreed upon proposed recommendations addressing numerous pediatric-specific issues issues relating to EBV and PTLD. It is anticipated that 5 manuscripts addressing the methodology and recommendations of the consensus conference will be published in Pediatric Transplantation in the relatively near future. Ongoing and upcoming initiatives include assessing practice patterns and providing evidence-based recommendations related to: vaccination, including vaccine hesitancy, yearly influenza vaccine update, and live virus vaccination after pediatric solid organ transplantation; evaluating antimicrobial prophylaxis strategies, that are pathogen specific (e.g. Pneumocystis) and organ-specific (e.g. liver); and at the request of the IPTA council, providing strategies for infection prevention in patients with asplenia. As always, ID-CARE committee members are eager for input from and ongoing collaboration with other IPTA committees.
IPTA Council & Committees 2019-2021
Much of the work of IPTA is can only be done through the contributions of our Council and Committees. We would like to introduce you to the IPTA Council and Committee members for 2019-2021.
IPTA Council
Officers
| | | |
| --- | --- | --- |
| President (2019-2021) | Mignon McCulloch, Cape Town, South Africa | This email address is being protected from spambots. You need JavaScript enabled to view it. |
| President-Elect (2019-2021) | Carlos Esquivel, Stanford, USA | This email address is being protected from spambots. You need JavaScript enabled to view it. |
| Secretary Treasurer (2019-2021) | Lars Pape, Hannover, Germany | This email address is being protected from spambots. You need JavaScript enabled to view it. |
| Immediate Past-President (2019-2021) | Anne Dipchand, Toronto, Canada | This email address is being protected from spambots. You need JavaScript enabled to view it. |
Councilors
| | | |
| --- | --- | --- |
| Councilor (2017-2021) | Stephen Alexander, Westmead, Australia | This email address is being protected from spambots. You need JavaScript enabled to view it. |
| Councilor (2019-2023) | Louise Bannister, Toronto, Canada | This email address is being protected from spambots. You need JavaScript enabled to view it. |
| Councilor (2019-2023) | Luca Dello Strologo, Rome, Italy | This email address is being protected from spambots. You need JavaScript enabled to view it. |
| Councilor (2019-2023) | Deirdre Hahn, Sydney, Australia | This email address is being protected from spambots. You need JavaScript enabled to view it. |
| Councilor (2019-2023) | Evelyn Hsu, Seattle, USA | This email address is being protected from spambots. You need JavaScript enabled to view it. |
| Councilor (2017-2021) | Alan Langnas, Omaha, USA | This email address is being protected from spambots. You need JavaScript enabled to view it. |
| Councilor (2017-2021) | Stephen Marks, London, United Kingdom | This email address is being protected from spambots. You need JavaScript enabled to view it. |
| Councilor (2017-2021) | Klara Posfay-Barbe, Geneva, Switzerland | This email address is being protected from spambots. You need JavaScript enabled to view it. |
| Councilor (2017-2021) | Katherine Twombley, Charleston, USA | This email address is being protected from spambots. You need JavaScript enabled to view it. |
IPTA ALLIED HEALTH PROFESSIONAL COMMITTEE
| | | |
| --- | --- | --- |
| Co-Chair | Anna Gold, Toronto, Canada | This email address is being protected from spambots. You need JavaScript enabled to view it. |
| Co-Chair | Jenny Wichart, Calgary, Canada | This email address is being protected from spambots. You need JavaScript enabled to view it. |
| | | |
| Member | Christine Divens, Pittsburgh, USA | |
| Member | Yuko Hamasaki, Tokyo, Japan | |
| Member | Debra Lefkowitz, Philadelphia, USA | |
| Member | Catherine Patterson, Toronto, Canada | |
| Member | Diana Shellmer, Pittsburgh, USA | |
| Member | Jo Wray, London, UK | |
| Council Liaison | Louise Bannister, Toronto, Canada | |
Past Chairs
| | |
| --- | --- |
| Co-Chair | Louise Bannister, Toronto, Canada |
| Co-Chair | Beverly Kosmach-Park, Pittsburgh, USA |
Communications Committee
| | | |
| --- | --- | --- |
| Chair | Vikas Dharnidharka, St. Louis, USA | This email address is being protected from spambots. You need JavaScript enabled to view it. |
| | | |
| Member | Allison Carroll, Edmonton, Alberta | |
| Member | Srinath Chinnakotla, Minneapolis, USA | |
| Member | Shawn West, Pittsburgh, USA | |
| Council Liaison | Carlos Esquivel, Standford, USA | |
Education Committee
Chair and
Council Liaison
Katherine Twombley, Charleston, USA
This email address is being protected from spambots. You need JavaScript enabled to view it.
Past Chair
Rohit Kohli, Los Angeles, USA
Member
Sharon Bartosh, Madison, USA
Member
Andrew Bonham, Palo Alto, USA
Member
Alicia Chaparro, Buenos Aires, Argentina
Member
Andre Dick, Seattle, USA
Member
Ahmed Elsabbagh, Indianapolis, USA
Member
Evelyn Hsu, Seattle, USA
Member
Rohit Kohli, Los Angeles, USA
Member
Adam Putschoegl, Rochester, USA
Member
Jamie Restrepo, Cali, Colombia
Member
Tomas Seeman, Prague, Czech Republic
Ethics Committee
| | | |
| --- | --- | --- |
| Chair | Michael Freeman, Hershey, USA | This email address is being protected from spambots. You need JavaScript enabled to view it. |
| Past Chair | Richard Trompeter, London, UK | |
| | | |
| Member | Robert Ettenger, Los Angeles, USA | |
| Member | Aviva Goldberg, Winnipeg, Canada | |
| Member | Rebecca Greenberg, Toronto, Canada | |
| Member | Debra Lefkowitz, Philadelphia, USA | |
| Member | Marilyn Moonan, Boston, USA | |
| Member | Julia Steinke, Grand Rapids, USA | |
| Council Liaison | Stephen Marks, London, UK | |
ID Committee
| | | |
| --- | --- | --- |
| Chair | Monica Ardura, Columbus, USA | This email address is being protected from spambots. You need JavaScript enabled to view it. |
| Past Chair | Michael Green, Pittsburgh, USA | |
| | | |
| Member | Abanti Chaudhuri, Stanford, USA | |
| Member | Waldo Concepcion, Palo Alto, USA | |
| Member | Lara Danziger-Isakov, Cincinnati, USA | |
| Member | Michael Green, Pittsburgh, USA | |
| Member | Britta Höcker, Heidelberg, Germany | |
| Member | Arnaud L'Huillir, Geneva, Switzerland | |
| Member | Marian Michaels, Pittsburgh, USA | |
| Member | Dimitri Van Der Linden, Brussels, Belgium | |
| Member | Anita Verma, London, UK | |
| Council Liaison | Klara Posfay-Barbe, Geneva, Switzerland | |
Membership Committee
| | | |
| --- | --- | --- |
| Chair | Cozumel Pruette, Baltimore, USA | This email address is being protected from spambots. You need JavaScript enabled to view it. |
| Past Chair | Katherine Twombley, Charleston, USA | |
| | | |
| Member | Asiri Abeyagunawardena, Peradeniya, Sri Lanka | |
| Member | Stephen Alexander, Westmead, Australia | |
| Member | Stephen Gray, Birmingham, USA | |
| Member | Nancy Halnon, Los Angeles, USA | |
| Member | Irene Kim, Los Angeles, USA | |
| Member | Mohammed Malekzadeh, Los Angeles, USA | |
| Member | Rakesh Sindhi, Pittsburgh, USA | |
| Council Liaison | Deirdre Hahn, Westmead, Australia | |
Outreach Committee
| | | |
| --- | --- | --- |
| Chair | Fiona Mackie, Sydney, Australia | This email address is being protected from spambots. You need JavaScript enabled to view it. |
| Past Chair | Tom Blydt-Hansen, Vancouver, Canada | |
| | | |
| Member | Dev Desai, Dallas, USA | |
| Member | Hanh Vo, Omaha, USA | |
| Member | Christine Hwang, Dallas, USA | |
| Member | Joseph Magliocca, Atlanta, USA | |
| Member | Saeed Mohammed, Chicago, USA | |
| Member | JoAnn Morey, Boston, USA | |
| Member | Raymond Reding, Brussels, Belgium | |
| Member | Jason Vanatta, Memphis, USA | |
| Council Liaison | Evelyn Hsu, Vancouver, Canada | |
Publications Committee
| | | |
| --- | --- | --- |
| Chair | Anette Melk, Hannover, Germany | This email address is being protected from spambots. You need JavaScript enabled to view it. |
| Past Chair | Jonathan Johnson, Rochester, USA | |
| | | |
| Member | Chesney Castleberry, Cincinnati, USA | |
| Member | Ryan Fischer, Kansas City, USA | |
| Member | Richard Mangus, Indianapolis, USA | |
| Member | Patrick McKiernan, Pittsburgh, USA | |
| Member | Marta Monteverde, Buenos Aires, Argentina | |
| Member | Thamara Perera, Birmingham, UK | |
| Member | Dechu Puliyanda, Los Angeles, USA | |
| Member | Mariastella Serrano, New Orleans, USA | |
| Member | Burkhard Tönshoff, Heidelberg, Germany | |
| Council Liaison | Luca Dello Strologo, Rome, Italy | |