Types of Intestinal Transplantation
There are four main types of intestinal transplantation:
Isolated intestinal transplantation
Liver intestine transplantation
Multivisceral transplantation
Modified multivisceral transplantation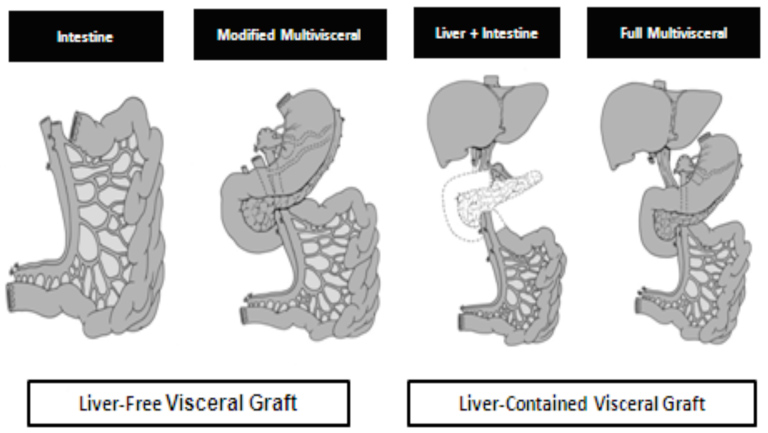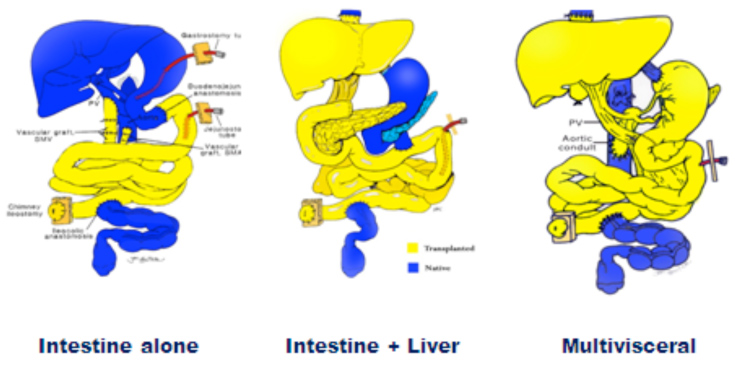 Types of visceral allografts; intestine, liver-intestine, and multi visceral. Inclusion of the pancreaticoduodenal complex (unshaded organs) is optional with the liver-intestine allograft. A multivisceral graft must include the stomach en bloc with the other visceral organs without (modified) or with (full) the liver. The colon, pancreas and kidney could also be added en bloc to the visceral allograft with the exception of the liver-free visceral allograft when the kidney can only be transplanted separately.
Reproduced (with permission) from Journal of Gastrointestinal Surgery
J Gastrointest Surg. 2010 Nov;14(11):1709-21. doi: 10.1007/s11605-010-1317-5. Epub 2010 Sep 17.