International Workshop on VCA Histology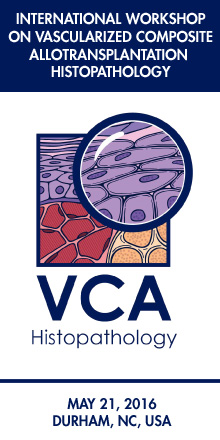 Dear Colleagues,
Our Society was founded by pioneers in composite tissue allotransplantation; visionaries who recognized the future possibilities of the field and grouped people together to support each other sharing a common purpose. Continuing with the development that the field has attained in the last decade, we now have a new name: International Society of Vascularized Composite Allotransplantation (ISVCA). Although the name has changed, all aspects of our service and commitment remain the same. On behalf of all the members, I thank the pioneers of our Society for all that they have done.
It is with great pleasure to invite you to an International Workshop on VCA Histology on May 21, 2016 in Durham, North Carolina: "Grades and Stages of Rejection: Towards Clinical Correlation". The workshop is developed to encourage the exchange of scientific and clinical information and support the interchange of issues surrounding VCA histopathology.
For more information, please visit the website here
Following the successful meeting in Philadelphia, we would like to invite you to our 13th Congress of the ISVCA from October 26-27, 2017 in Salzburg, Austria. The meeting will include plenary sessions and abstract presentations, providing an overview of current developments and new perspectives. Leaders in the field will share their most recent findings. We look forward to seeing you in Austria in 2017!
Sincerely,
Linda C. Cendales, M.D.
ISVCA, President