Xenotransplantation - The official journal of the IXA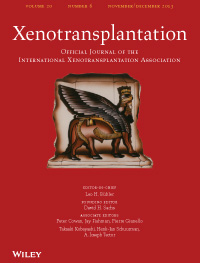 Xenotransplantation is a highly regarded specialist journal (impact factor 4.717 in 2017) that provides its readership with rapid communication of new findings in the field of organ, tissue and cell transplantation across species barriers. It also publishes reports on the controversial theological, ethical, legal and psychological implications of xenotransplantation. The journal is not only of interest to those whose primary area is xenotransplantation, but also to the broader transplant field and to veterinarians, microbiologists and geneticists. Full length and brief communications dealing with both basic and applied original research in this field will be considered for publication, as will review articles of timely subjects. Xenotransplantation is the journal for all those who wish to stay at the forefront of this fast developing and emerging field.
The Carl-Gustav Groth Xeno Prize is awarded annually to the best paper published in Xenotransplantation. The prize is jointly sponsored by the IXA and Wiley, and awards $7,000 (US) to the first author of the best paper published in the journal each calendar year.