In Memoriam - Yves Vanrenterghem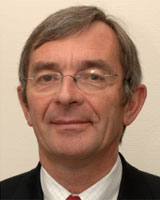 The Transplantation Society is saddened to inform its members that Yves Vanrenterghem, a great leader of the transplant community, has passed away at the age of 65 after long-standing illness.
Dr. Vanrenterghem received his MD degree in 1973 from the Catholic University of Leuven, Belgium, where he was Professor of Medicine and chairman of the Department of Nephrology and Renal Transplantation at the University Hospital.
Dr. Vanrenterghem was a member of TTS Council from 2006-2010. He was the 2012 recipient of TTS/Novartis Award for outstanding contribution to the evidence base for transplantation. He was President of the Eurotransplant International Foundation for over a decade until 2005, for which he received an Honorary Award from King Albert II of Belgium. Dr. Vanrenterghem was editorial board member of several scientific journals, including Transplantation; Transplantation Proceedings; the American Journal of Transplantation; the American Journal of Kidney Diseases; Nephrology, Dialysis and Transplantation (NDT); and Transplant International. He was the author of numerous papers pertaining to the regimen of immunosuppression for transplant patients that he devoted his career.
A note of condolences by the Society has been sent to Yves' wife Christine and to his children and grandchildren.