Declaration of Istanbul Custodian Group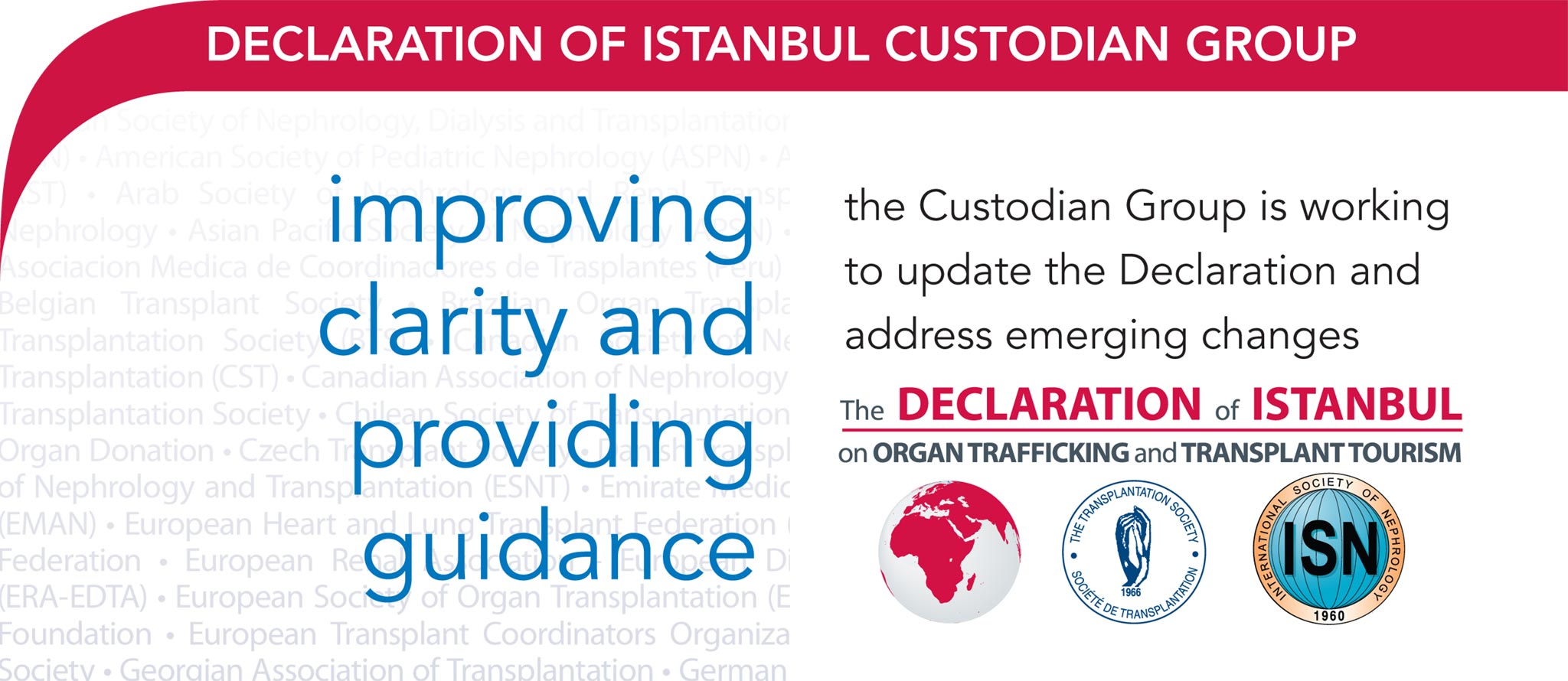 On the 9-10th of September, following the ISODP conference in Geneva, the Declaration of Istanbul Custodian Group (DICG) met for in-depth discussions regarding a proposed update of the Declaration for the 10th Anniversary in 2018. The update of the Declaration aims to improve clarity and facilitate understanding of the document as well as to ensure it continues to provide effective guidance for professionals and policy makers addressing new, emerging and persisting challenges in organ trafficking and 'transplant tourism'.
A draft outlining proposed changes to the Declaration will be made public later this year for a period of 2-3 months during which time organizations and individuals may share feedback with the Update working groups via a survey. Webinars presenting the draft Update will be hosted by TTS during that period. Keep an eye on the www.declarationofistanbul.org website, and DICG social media for more information or register your details with This email address is being protected from spambots. You need JavaScript enabled to view it. if you would like to be informed when the feedback period opens. The final Update will be presented during the International Congress of The Transplantation Society taking place in Madrid in June/July 2018.
The DICG, together with TTS, the ISN, the World Health Organization, the Transplantation Society of Latin America and the Caribbean (STALYC), and the Pontifical Academy of Sciences, recently joined with the Red/Consejo Iberoamericano de Donacion y Trasplantes (RCIDT) in expressing ethical opposition to a project known as the Global Kidney Exchange (GKE) program which has been the topic of considerable debate at recent international meetings. Some DICG Council members have already co-authored commentary papers discussing this issue, which can be found on the Declaration of Istanbul website. The DICG is currently working on a document that will assist transplant professionals and policy makers in understanding the ethical concerns of the proposed GKE program.
TTS members can learn more about the work of the DICG by visiting the website, or by contacting a member of the DICG Council based in their region. If you have any questions, you can find the list of current councilors on the website. To keep track of news relating to organ trafficking and transplant tourism, please follow the Facebook page (www.facebook.com/declarationofistanbul) or Twitter account (www.twitter.com/DoICustodianGp).