Paul Terasaki donates $50 million to UCLA's Life Sciences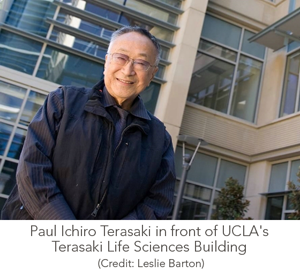 Paul Ichiro Terasaki, who as a teenager and young adult worked as a busboy, gardener and handyman and who spent three years interned with his family in a Japanese American relocation camp during World War II, has given $50 million to the Division of Life Sciences in the UCLA College of Letters and Science.
Terasaki's gift is the largest ever given to the UCLA College and is among the largest received by the university in its 91-year history.
In recognition of the gift, UCLA's new Life Sciences Building has been named the Terasaki Life Sciences Building for the UCLA professor emeritus of surgery and pioneer in organ transplant medicine who in 1964 developed the test that became the international standard method for tissue typing, a procedure that assesses the compatibility of organ donors and recipients.
Terasaki's gift includes $2 million to endow the Paul I. Terasaki Chair in Surgery at the David Geffen School of Medicine at UCLA, whose funds initially will support two postdoctoral fellowships in transplantation.
"I owe my whole career to UCLA," Terasaki said. "UCLA gave me the opportunity to do the research that led to the development of tissue typing. At many other universities, I would not have had that kind of freedom in the lab."
"Dr. Terasaki is an inspirational role model and a great scientist who has had a nearly lifelong relationship with UCLA, as a student, professor, donor and father of UCLA alumni," UCLA Chancellor Gene Block said. "The Life Sciences under Dean Victoria Sork are at the core of UCLA's excellence, and I am absolutely delighted that our new Life Sciences building will be named for Dr. Terasaki. I am extremely grateful for his visionary philanthropy."
"Most advances in medicine are rooted in the life sciences," Terasaki said. "That background opened the door to my research and proved vital to my medical discoveries."
The Terasaki Life Sciences Building includes 33 laboratories, where hundreds of scientists will conduct state-of-the-science research integrating such fields as cell biology, neuroscience, genomics and stem cell research. It is scheduled to open in October.
"The Terasaki Life Sciences Building is a metaphor for what UCLA is doing in the Life Sciences, the essential science of the 21st century," Sork said. "This building is designed to enhance interactions among scientists with different tools, approaches and ways of thinking. Increasingly, scientists across disciplines are sharing in empirical and computation approaches that benefit from exchange. The new life sciences provide the foundations for understanding biomedical innovations, applied human health problems and biodiversity challenges facing our planet, and this research will lead to improvements in how we live. The translation of this deep research across all areas into applications is becoming increasingly common, and interdisciplinary collaboration of the kind we will see in this new building is key.
"I am pleased that Dr. Terasaki will continue his research, which has extended the lives of so many people, at UCLA," Sork added. "Indeed, just this month, at a major scientific conference in San Diego, he reported an important advance on 16 patients who had
kidney transplants and have survived for two years without drugs since their surgeries — a significant advance known as achieving the 'holy grail of tolerance' with transplants."
Terasaki, after being promoted from researcher, served as a UCLA professor of surgery from 1969 until 1999, when he retired. Within a year, he resumed his academic pursuits with the creation of the Terasaki Foundation Laboratory, a research center dedicated to the study of antibodies to transplants.
He has published more than 900 scientific articles and has trained some 100 postdoctoral scholars at UCLA. Today, Terasaki is aided by more than 100 laboratory workers who have worked with him for 10 to 40 years at One Lambda and the Terasaki Foundation.
"I owe any success I had to a large group of colleagues who toiled with me for the past 40 years," he said.
While nearly every faculty member in surgery departments at UCLA and elsewhere had M.D. degrees, Terasaki was an exception, with a Ph.D.
"It was an important promotion for me because I was not an M.D. or a surgeon," he said. "It was very rare, and I was very pleased. In the whole country, there were not many other Ph.D.s who were professors of surgery. I am grateful to Dr. William Longmire, who was UCLA's chairman of surgery. It was because of the freedom that he allowed me in my research that I was able to develop tissue typing. Dean Sherman Mellinkoff provided the medical school with the environment that encouraged innovation."
Terasaki's generosity to UCLA goes back years and covers many parts of the university. In 2001, he established an endowed chair in U.S.–Japan relations, and in 2006, he and his wife contributed $5 million to UCLA to promote better understanding between the United States and Japan at the renamed Paul I. and Hisako Terasaki Center for Japanese Studies at the UCLA International Institute.
Now 80 years old, he is still looking to the future.
"I'm happy to have my name on this state-of-the-art Life Sciences Building at UCLA, where many new and amazing discoveries will take place," he said. "For me, it is exciting to know that the clinical research I began in the life sciences will continue in collaboration with the transplant groups at UCLA."
– Artilce by Stuart Wolpert, UCLA Newsroom
Read the full article:
http://newsroom.ucla.edu/portal/ucla/paul-terasaki-donates-50-million-158486.aspx
"Dr. Terasaki served as TTS President from 1982 to 1984
and has held various positions within TTS over the last four decades. TTS is proud to congratulate him on his recent contribution"