DMA Activities Report ...global effort to combat organ trafficking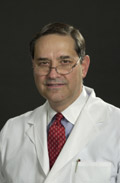 TTS Director of Medical Affairs, Dr. Francis Delmonico and Dr. Luc Noël of the World Health Organization participated in the launch of a global effort to combat organ trafficking at a special session convened at the United Nations on October 13, 2009. This session was organized by the Council of Europe and the United Nations and cosponsored by the permanent missions of Slovenia and Spain to the United Nations.
A comprehensive document was presented to delegates and followed by an international press conference and media interviews. Dr. Delmonico presented the work of the Declaration of Istanbul in concert with the Guiding Principles of the World Health Organization presented by Dr. Noël. These Guiding Principles were approved by the Executive Board of the WHO in January 2009 and will be submitted to the World Health Assembly in May 2010.
Dr. Delmonico subsequently met with Minister Jiefu Huang as he visited Boston in November, 2009, to share these developments regarding Istanbul, the WHO Guidelines and the Council of Europe/United Nations report. A substantial report regarding China will be presented in the next TTS newsletter.

Caption: Delegation from the People's Republic of China including Vice Minister of Health Huang Jiefu and Dr. Haibo Wang with TTS Director of Medical Affairs, Francis Delmonico