IHCTAS Meeting in Atlanta
---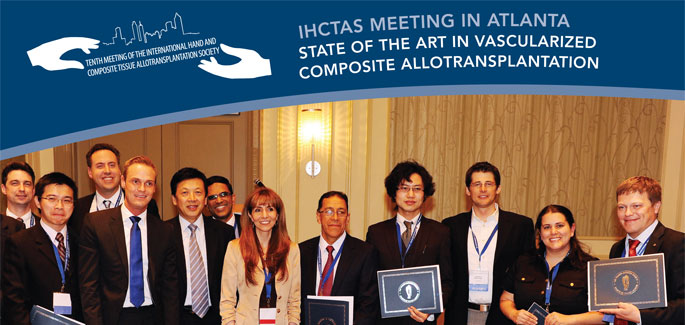 Chair of the meeting Linda Cendales (center) with TTS travel award recipients: Radbeh Torabi, Cheng-Hung Lin,
Robert Sucher, Fadi Issa, Julio Bermudez, Jun Araki, Gerhard Mundinger, Alessandrina Freitas and Dmitry Bazarov
Physicians, surgeons, allied health providers, trainees, researchers and organ procurement personnel gathered in Atlanta on April 7th-9th, 2011 for the 10th Meeting of the International Hand and Composite Tissue Allotransplantation Society (IHCTAS), the landmark meeting of the international community in the field of vascularized composite allotransplantation (VCA). The welcome ceremony included messages from Chris Larsen, Director of the Emory Transplant Center; Lee Herron, Georgia Research Alliance Vice President of Commercialization; Francis Delmonico, TTS President-Elect; Maria Siemionov, President of IHCTAS and Linda Cendales, IHCTAS Local Organizing Committee Chair.
The meeting had outstanding luminaries in the field of transplantation both clinical and basic and social sciences, such as Kathryn Wood,
Sir Roy Calne and Sander Gillman as well as representatives from active programs in VCA worldwide.
The scientific program demonstrated the breadth of specialties involved in the emerging field of VCA such as surgery, rehabilitation, mental health, infectious diseases, organ procurement, neurosciences, orthotics and prosthetics, pathology, anaplastology, public relations, patient's perspective, basic and translational research, military applications, as well as work from bright new investigators and trainees. Sessions integrated scientific and clinical information and the setting facilitated an open sharing of information, further galvanizing the multidisciplinary interactions necessary to chart the future of this exciting and demanding approach to transplantation. More than 70 oral communications addressed research with intensive discussion surrounding all topics.
This year's meeting was the first one after the IHCTAS became a Section of TTS. With the help and generosity of TTS and many sponsors, the event exhibited the scope of areas involved in VCA. The meeting had increased numbers of attendees and abstract submissions. Additionally, travel awards were given by TTS to the highest scored abstracts submitted by trainees. The awardees were from the continents represented at the conference.
The report of the delegates was that the meeting demonstrated a unique winning combination of science and social interaction with the opportunity throughout the meeting for an open sharing of information to better the field in general.
We look forward to the next meeting in Poland in 2013…