Second Transplantomics Conference • Barcelona, Spain
---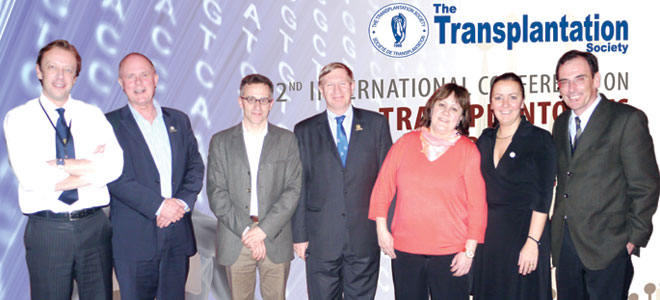 From left to right: Graham Lord (Meeting Co-Chair), Henrik Ekberg (DMA), Alberto Sanchez-Fueyo (Meeting Co-Chair), Jeremy Chapman (Immediate Past President), Maria Hernandez Fuentes (Meeting Co-Chair), Filomena Picciano (DSO) and Daniel Serón (President of The Catalan Transplantation Society)
From March 13th-15th, 2011, in the beautiful city of Barcelona, a multidisciplinary group of speakers and attendants gathered at the 2nd International Conference on Transplantomics and Biomarkers to discuss how information obtained with "omics" techniques could be used to improve patient care of organ transplant recipients.
Drs. Weale, Lord and Chen presented the latest information on and the importance of genome wide association. Drs. Holmes, Rush and Dalton updated us on how metabonomics and proteomics approaches were being used in transplantation whereas Dr. Razavi introduced the concept of imaging biomarkers.
Drs. Sawitzki, Maarten, Anglicheau, Sellares-Roig, Hernandez-Fuentes and Pham gave us examples of how gene expression can be used for prediction and personalization of medicine in kidney, liver or heart transplantation. Long-term and short-term outcomes were assessed. The multi-platform approach was introduced by Drs. Brouard, Sanchez-Fueyo and Lechler. Dr. Reinke used a cell-function assessment called ELISPot while Dr. Claas showed us the role of antibodies detected in serum.
The statisticians and bioinformaticians were outstanding. Whilst Dr. Rebollo-Mesa initiated us on prediction models, Dr. Irizarre made our hair stand on end when he showed a range of batch effects with baffling results; fortunately he then explained how to deal with them. Dr. Dopazo instructed on the analysis of data to solve complex biological problems and Dr. Brinkman mentioned how to tackle the automated analysis of multiparametric flow cytometry to do "real science".
Dr. Ehmann provided important insight when he elaborated on the qualification process at the European Medicines Agency (EMA), and Drs. Olano-Martin from Progenika and Ashton-Chess from TcLand Expression shared their industries point-of-view.
While the focus of this conference was on transplantation, clearly the themes discussed have a much wider implication for progress in personalised medicine. The goal ahead is to improve long-term survival of transplanted organs. This task will involve better therapeutic regimens, which in turn will lead to superior markers for prediction of dysfunction, more focused targets for intervention and improved surrogate markers of outcome.