Education Committee Update
---
Do You Know?
The Education Committee is very enthusiastic about our new educational activity called "Do You Know?". The aim of this project is to broaden our members' general knowledge by supplying a short summary of an article recently published in a peer reviewed journal. The commentary is published via email on a bi-weekly basis, and provides an easy read to the member, with the option of linking to the full article or any of the references on PubMed.
TTS Webinars
Webinars, a now very familiar and long-standing teaching tool, continue to attract many of our members. Each webinar features a 20-30 minute slide presentation followed by a question and answer discussion period. In the last year, several TTS members from different regions have been invited to chair webinars on a variety of topics, including: Transplant Infectious Disease (Jay Fishman, USA), Medication Adherence (Bethany Foster, Canada), HLA-Antibodies (Denis Glotz, France), and Non-invasive Biomarkers (Peter Nickerson, Canada). The online discussion format provides a lively and interactive space for participants. The webinars are also available as podcasts for members who were unable to participate in the live discussion.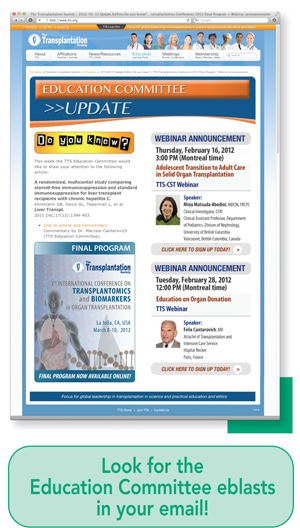 Online Patient Materials
The members of TTS Education Committee reviewed the currently available web-based information material addressed to patients. A selection of the most important websites has been selected and posted on TTS webpage.
EODTS Working Group and Forum
The Working Group on Education on Organ Donation and Transplantation for Schools (EODTS) has been created to bring together people from around the world who are involved with the education of school children in the field of organ donation and transplantation. This working group is open to all TTS members and non-members and its goal is to expand knowledge about organ donation and transplantation at school level worldwide. A 2nd EODTS Forum meeting will take place in Berlin on July 15, 2012, for members of the working group. Please visit the TTS webpage (www.tts.org) for more information.
Needs Assessment/ Gap Analysis Survey
A Needs Assessment/Gap Analysis survey is available for completion on TTS webpage at www.tts.org/educationsurvey. We encourage TTS members to complete the survey. This will help the TTS Education Committee address more educational needs in the future.