The Start of a New Era
---
TTS has developed a new relationship with Transplantation
This new relationship now enables Online and iPad access to Transplantation for all TTS members (dues paid up to date) and access to the ETOC (electronic table of contents) of each Transplantation issue. A print subscription will still be available for all TTS members at a much-reduced cost.
TTS wishes to encourage members to access Transplantation as its official Journal. A metric of Journal performance to the future will not only be the impact factor by published citations but also by reader access.
Wolter's Kluwer/Lippincott Williams and Wilkins, the publisher of Transplantation has also agreed to publish of TTS biennial meeting abstracts and those of TTS Section conferences held in their biennial years, all in fully searchable format in the Journal.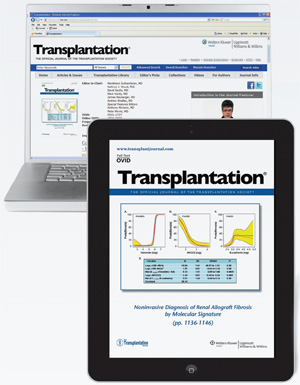 The Editors of Transplantation have been most supportive of these developments and have cooperatively enabled TTS to call for the appointment of Regional Associate Editors throughout TTS Regions of the world that include Asia, Africa/Middle East, Europe, Latin America, North America and Oceania.
These developments highlight the value of being a TTS member. Other benefits include free access to educational materials on the TTS website, reduced registration fees at TTS symposia congresses and meetings, access to TTS Newsletter Tribune that updates members regarding global events and Section meetings, and access to grants, awards and fellowships. The reduced registration fee for the 2014 World Transplant Congress in San Francisco will be substantial for TTS members.
Meanwhile, TTS has an invigorated relationship with its Journal's publisher and an enhanced collaboration with the Transplantation editors that we are now confident will lead to further improvements to the Journal.