Basic Science Committee Update
---
Basic Sciences at the 24th International Congress of the Transplant Society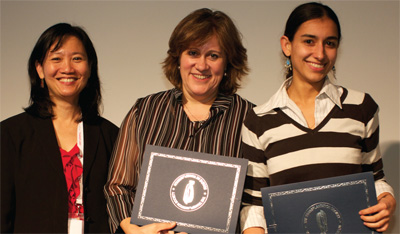 Anita Chong alongside TTS-British Transplantation Society Recipients
Maria Hernandez-Fuentes (Mentor) and Estefania Nova Lamperti (Mentee)
The International Congress of the Transplant Society in Berlin was a great success and basic science contributions were excellently represented. There was a record high of 289 abstract submissions, with 48 selected for oral and 28 for mini-oral presentations. In addition, key opinion leaders in basic science provided updates in one Basic Science Plenary, eight Sunrise and another eight State-of-the-Art sessions, all extremely well attended and informative. The Plenary Session on Tolerance: Strategies on the Verge of Translation was one of many excellent sessions in which Drs. Qizhi Tang, Hans-Dieter Volk and Herman Waldman detailed the pathway towards achieving transplantation tolerance in the clinic.
The basic science networking and award presentation was one of the many highlights of the meeting for basic scientists attending the Congress. Over 100 participants engaging in lively discussions attended the event. A total of 22 Mentee-Mentor Travel Awards were jointly awarded with the Australian/NZ, Canadian, European, French, German, Japanese and UK Transplantation Societies. Five additional awards supported solely by TTS were awarded to applicants from developing (China and Columbia) and non-collaborating (USA) countries. This year, the Basic Science Committee also gave out four TTS International Basic Science Research Exchange Fellowship awards—three for Trainees and one for Faculty—to facilitate opportunities for pre- and post-doctoral trainees and faculty in the basic science of transplantation to travel from their home institution to another laboratory for research training opportunities and for developing collaborations.
The Transplantation Society continues to strongly support basic research in transplantation, and we, as the co-chairs of the basic science committee of TTS, encourage all of you with basic science interests to participate in TTS sponsored meetings and activities.
Please join us at the 2013 ESOT/TTS Basic Science Symposium, which will take place in 2013 (dates to be posted shortly on tts.org website).