Cell Transplant Society Congress Update
---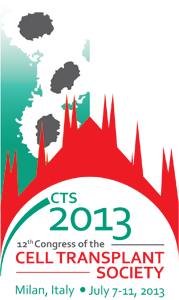 In July of 2013, world-renown scientists and keen young investigators will meet in Milan to share the latest discoveries in the fields of cell and stem cell transplantation and regenerative medicine. An expected 500 delegates will be exposed to a blend of ground-breaking science along with the stunning historical and fine art attractions of Milan. In fact, in addition to being the Italy's largest industrial city (hosting the World EXPO in 2015), Milan has a centre pervaded by an ancient atmosphere (Mediolanum).
The scientific sessions will cover both basic and clinical research in the area of cell transplantation treatment for neurological, endocrine, cardiac and gastrointestinal diseases. Plenary sessions, sessions with short (5–6 minute) oral presentations, and poster discussions are planned during the meeting's 4-day duration, allowing as much time as possible for new and original findings and young investigator research.
The venue will be in the unique setting of the University of Milan, designed in the 15th Century by the architect Filarete to host the Hospital Ca' Granda, one of the oldest general hospitals in Italy.