Transplant Infectious Disease Section Update
---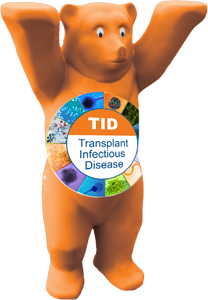 The Transplant Infectious Disease section of The Transplantation Society had an excellent and very well attended 6th International Transplant Infectious Diseases Conference in Berlin, with over 150 attendees from all over the world. State-of-the-art subjects included HIV+ organ transplants, hepatitis C, composite tissue transplants, best management of post-transplantation lymphoproliferative disorder, as well as multiple other topics. Further information can be found at www.tid2012.org, and TTS members can download talks from the meeting via the TTS website.
Another international consensus meeting took place in Saint-Saveur (just north of Montreal, Canada) from October 25-26 on the management of cytomegalovirus after solid organ transplantation. Over 40 international experts convened to develop updated guidelines on management of the most common infection after solid organ transplantation.
Multidisciplinary guidelines regarding management of infections and composite tissue transplantation are nearly complete. New members are warmly welcomed by the Transplant Infectious Disease section throughout the year.