A Global Presence - South-Eastern Europe Health Network
---
During recent visits to Bulgaria, Albania and Serbia, Dr. Francis L. Delmonico, President of TTS, accompanied by Dr. Mirela Busic, Assistant Minister of Health of the Republic of Croatia and Director of RHDC for transplantation and organ donation within South Eastern Europe Health Network (SEEHN), met with the Ministers and Agency Officials of each of these countries. The purpose of these meetings was to support each of these countries in formulating action plans to initiate a program of deceased donation for the people of their country.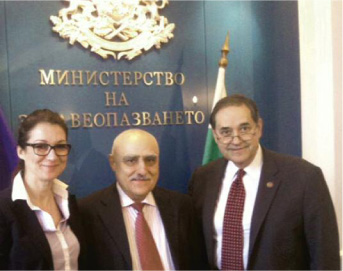 Dr. Mirela Busic and Dr.­­ Francis L. Delmonico meet with
Deputy Minister of Health, Mincho Vichev, of Bulgaria
In May 2011, TTS along with the European Society for Organ Transplantation (ESOT), SEEHN, the International Society for Organ Donation and Procurement (ISODP) and ETCO (European Transplant Coordinators Organization) sponsored the South East Europe Initiative on Deceased Organ Donation 2-day workshop in Macedonia. Representatives from the sponsoring organizations as well as 40 representatives from 10 countries from the region developed actions plans to implement deceased organ donation processes in their respective countries. The recent visits by Drs. Delmonico and Busic were a continuation of this ongoing process.