International Hand and Composite Tissue Allotransplantation Society Update
---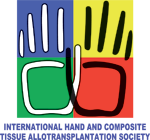 The 11th Congress of the International Hand and Composite Tissue Allotransplantation Society held in Wroclaw, Poland was a smashing success. It included an interesting scientific program, as well as a lovely social program such as the reception in the historic Wroclaw Town Hall and the gala dinner at the beautiful Wroclaw Opera House where Jean-Michel Dubernard and Raimund Margreiter were honoured as pioneers in CTA/VCA.
The scientific program included an update of the experience of the majority of centers performing hand or/and face transplantation over the world. In addition, uterus transplantation and abdominal wall allotransplantations were presented. There were sessions on donor issues and organization of hand or face transplantation program in different countries. In addition to the sessions focusing on rejection, infections and other complications in this new field of transplantation, the sessions on CTA/VCA models and potential new methods to treat rejection and speed nerve regeneration induced particularly productive discussions. During Melina Nakos' Symposium, the participants debated with gusto on whether we are ready to offer CTA/VCA grafts to children and patients with congenital defects.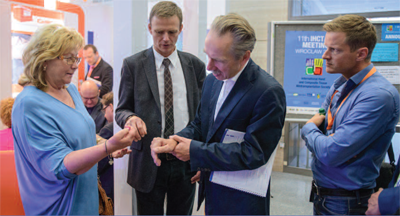 One of the three hand transplant recipients from the Wroclaw program
who attended the 11
th
IHCTAS Congress meets with
meeting attendees to discuss her experience.
There were three keynote lectures: Dr. Dubernard: "VCA: From Myth to Reality"; Dr. Margreiter: "How We Arrived at CTA: Recollections of an Old Transplant Surgeon" that led to the Innsbruck hand transplant program; and, Dr. Siemionow: "Ethical Aspects of Face Transplantation". In addition, three of the hand transplant recipients from the Wroclaw program attended the meeting and discussed their experience with meeting participants.
Finally, a General Assembly of the members of IHCTAS was held and we are pleased to welcome the new members of our 2013–2015 Council. A complete list of the Council, as well as the goals of the Society can be found at www.ihctas.org.
Our profound thanks to Dr. Jablecki, the organizing and honorary committee, and TTS for a wonderful opportunity to share and obtain feedback in this exciting field.