International Society for Organ Donation and Procurement Section Update
---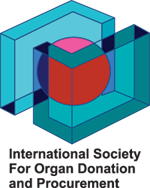 Sydney welcomed attendees to the 12th Congress of ISODP from November 21–24 and our scientific committee prepared an exciting educational programme. It included early morning sessions, debates, plenary session, concurrent sessions on hot topics such as death determination, living donors, donations in emerging countries, donor transmitted disease, information technology, and donation crossing borders. Several mini oral sessions replaced conventional poster sessions to a great success.
Strategic Planning:
The last 2 years have seen significant success in the implementation of strategic planning of ISODP. The first goal of the strategic plan is to increase donation internationally by improving the professional practices for donation.
ISODP and NUTS of SAA Joint session:
The first joint session of ISODP and the Nephrology, Urology and Transplant Society (NUTS) Conference of the South Asian Association (SAA) was held on September 1, 2013 in Chennai, India. It highlighted organ donation in South Asia and how ISODP would play a pivotal role in increasing deceased donation in this region after evaluating the religious and cultural issues hampering organ donation.
ISOSP and AST Joint Session:
The 13th Congress of Asian Transplantation Society (CAST), attended by almost 1400 delegates also had a very important plenary session on September 3, 2013 in Kyoto, Japan focusing on low transplant rate in the continent of Asia and more importantly highlighting the low deceased donation activity.
TTS-ISODP Joint Membership:
ISODP has been active in promoting membership and has focused to the emerging economies where transplantation is taking roots, yet its activity still remains meager. The membership from developing countries will play an important role in enhancing transplantation in those regions. TTS has demonstrated an exemplary understanding and helped this initiative. The concept of joint membership of TTS and ISODP has now become fully operational and transplantologists applying particularly from developing countries can have unique opportunities of TTS and ISODP on substantially reduced rates. This will provide them with TTS' enormous resources on education and, more importantly, will bring them in the mainstream of transplantation. Although overall membership did not grow substantially, paid membership increased by 20%.
Webinars:
Information sharing is the third goal of the strategic plan. Educational activity has increased significantly in the past year through well-attended - over 150 listeners around the world participated. Several more webinars on the topics of brain death, Declaration of Istanbul updates, living organ donation in South Asia, Croatia, Brazil are expected to be aired in the coming months.
Future ISODP Congresses:
The 13th Congress of ISODP will be hosted by South Korea in October of 2015 while several bids for 2017 meeting have been received and are being evaluated.