Linking Legacy to Practice
---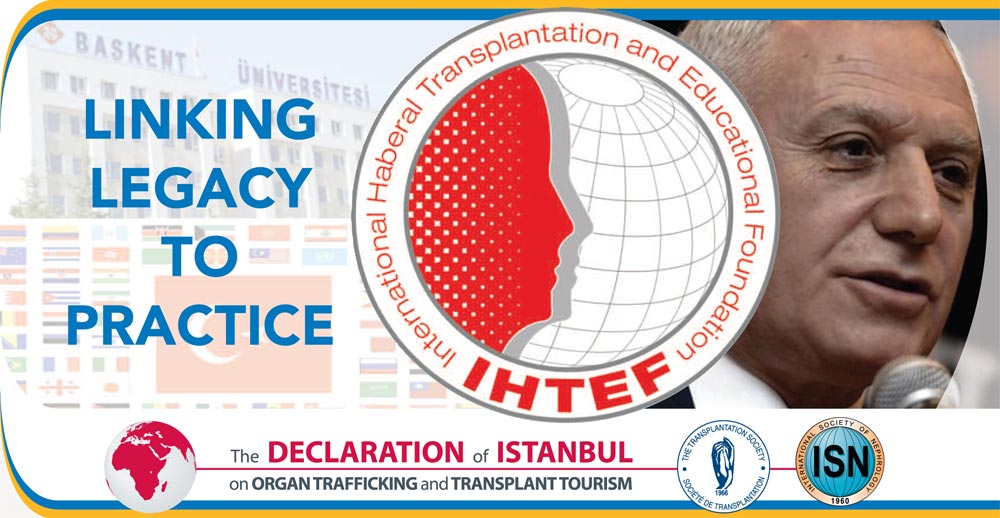 The Transplantation Society is pleased to announce the establishment of The International Haberal Transplantation and Education Foundation (IHTEF) to support the work of the Declaration of Istanbul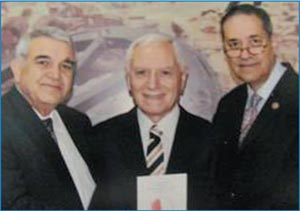 July 20, 2013, Silivri prison outside Istanbul:
Professor Mehmet Haberal (middle), Founder of IHTEF,
seen holding the IHTEF brochure; with TTS President
Francis L. Delmonico and Feyyaz Artukoglu (left),
representing Dr. Haberal at the 5th Anniversary Meeting
of the Declaration of Istanbul in Doha, Qatar and key
delegate of the Foundation who will work directly with DICG.
Professor Mehmet Haberal is an internationally renowned transplant surgeon who pioneered kidney and liver transplantation in Turkey. He is the Founder and President of the Turkish Transplantation Society (TOND) and Founder and first President of the Middle East Society for Organ Transplantation (MESOT). He served as Councilor of The Transplantation Society (TTS) representing the Middle East and Africa for the term 2004-2008 and as President of the International Society for Burn Injuries (ISBI) for the term 2006-2008. He is also the Founder and President of Baskent University in Ankara, Turkey, which has established 10 hospitals and 14 dialysis centers throughout the country. In the general election held on June 12, 2011, Professor Haberal was elected a Member of Parliament from the province of Zonguldak on behalf of the People's Republican Party (CHP).
Through the creation of the International Haberal Transplantation and Education Foundation, The Declaration of Istanbul Custodian Group (DICG) seeks to link indelibly the legacy of Professor Haberal's contributions to the field of transplantation and his steadfast devotion to developing ethically proper practices of deceased and living organ donation around the world.
Mission of IHTEF for the Declaration of Istanbul:
TTS and the DICG send their best wishes to Dr. Haberal in his restored freedom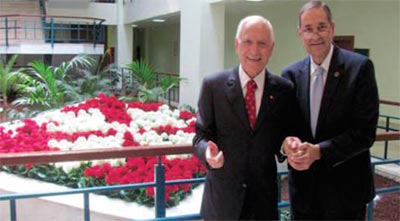 Dr. Haberal having been released from the Silivri prison on August 5th 2013
and now in the corridors of his beloved Baskent University.
The mission of the IHTEF is to collaborate with the Declaration of Istanbul Custodian Group in promoting, sustaining and monitoring the implementation of the Declaration of Istanbul worldwide. IHTEF and DoI will foster systems of living and deceased organ donation free of coercion, exploitation, commercialism or human trafficking and to help countries develop means to achieve self-sufficiency in organ donation and transplantation.
Henceforth, as the history of organ transplantation is written, the name of Professor Mehmet Haberal will be enduringly associated with the Declaration of Istanbul.