President's Message
---
The Relationship of TTS with Developments in China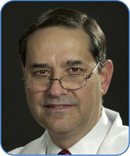 Francis L. Delmonico
TTS President
There are new developments indicative of the resolve of China to change its long-standing practice to use organs from executed prisoners.
I recently visited with Deputy Director Zhou Jun of the National Health and Family Planning Commission (NHFPC) in Beijing on August 15, 2013, who presented the goals of the NHFPC (China's Ministry of Health) set forth by the new Minister of Health Bin Li.
The regulations from NHFPC (and now displayed on its website) include the following seminal stipulations:
the mandatory use of a computer system for the allocation of organs;
the defined responsibility and geographical service area for the organ procurement organization (OPO);
the defined qualifications, responsibility and accreditation of the organ donation coordinator.
These goals were brought forward at the 2nd OPO training course just held in Beijing, in which The Transplantation Society participated. The infrastructure of the OPO as defined by the NHFPC regulations will require training and education of professionals. Again, TTS seeks to be of assistance in these training exercises and it will seek the involvement of the WHO and other international organizations and professional societies to join in that effort of training of OPO coordinators and the development of OPO systems throughout the country.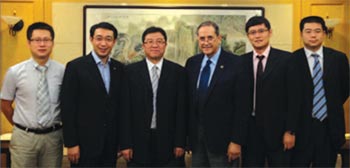 (from left to right) Drs. Zhao Jie, Haibo Wang (DICG leader),
Director Zhou Jun, TTS President Francis Delmonico, Liu Yong and
Du Bing at the NHFPC, August 15, 2013.
At the recent August meeting in Beijing, Dr. Huang Jiefu brought to attention that the Hangzhou Resolution will be announced by the OTC in Hangzhou in November, 2013 "to address that the source of the organs for transplantation must meet the commonly accepted ethical standards in the world, (and that) policies on national organ donation and allocation must be followed and the principle of fairness, justice and transparency of organ transplantation must be upheld". TTS will participate in that Hangzhou meeting and support those goals - all consistent with WHO and TTS principles.
Transplant centers in China must now develop (mandatorily) a service of organ donation and transplantation consistent with the new national program just reported in the official journal of TTS, Transplantation: The National Program for Deceased Organ Donation in China. Huang J, et al Transplantation. 2013 Jul 15; 96 : 5-9.
TTS has also made clear that it will not engage itself with centers or professionals that are not committed to develop the new program. TTS chooses to work towards that new program because of its (TTS) sustained commitment to oppose the use of organs from executed prisoners; but it now does so with a leadership of China that can make that change.