The Transplantation Society

Established in 1966, The Transplantation Society's vision is to provide the focus for global leadership in transplantation through the development of the science and its clinical practice, scientific communication and continuing education, and guidance on ethical practice.
INITIATIVES
Guided by the directives in its vision statement, TTS has been involved in several high profile global initiatives, including the Declaration of Istanbul and Women in Transplantation (WIT).
The Declaration of Istanbul on organ trafficking and transplant tourism was initiated in 2006, when representatives from TTS and the International Society of Nephrology met to discuss the development of a formal declaration to address the ongoing issues of global organ shortages and trafficking by uniting professionals in the field against unethical practices in organ transplantation. The Declaration was first published in 2008, after being drafted by working groups comprised of more than 150 representatives of scientific and medical bodies, government officials, social scientists and ethicists from 78 countries around the world.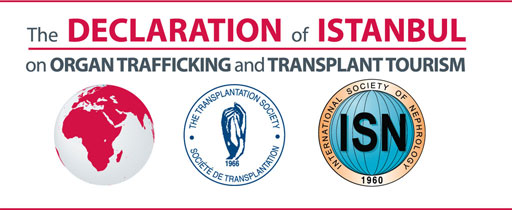 Women in Transplantation was founded by TTS Past President Kathryn J. Wood to strengthen and support the presence of women in the field. The initiative's two main components are its Networking and Outreach Program, which holds events at transplantation meetings to provide a venue for connecting and engaging with other women in the field, and the Mentorship Program, which matches women in the field with established mentors from TTS who offer support and guidance. Mentorship is provided on a one to one basis, and mentees are paired with a mentor at both the national and international levels.

EDUCATION
TTS provides live webinars on critical issues and updates in transplantation, facilitating global access to educational resources. These include a series aimed at developing transplantation programs in emerging countries, a Spanish series in association with Sociedad Argentina de Trasplantes, and presentations from past congresses and meetings.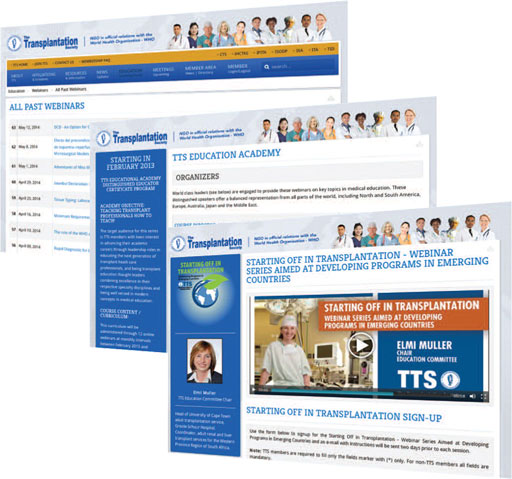 TTS CONGRESS
 The TTS Congress is held every two years and brings together transplantation professionals and affiliates from around the world to participate in a highly educative program. The 26th International Congress of The Transplantation Society will be taking place in Hong Kong from August 18-23, 2016, coinciding with the 50th anniversary of TTS.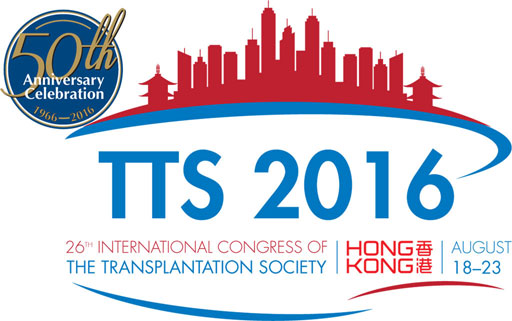 JOURNAL
Transplantation, the official journal of TTS, provides extensive coverage of the field of transplantation, as well as cell therapy and islet transplantation, immunobiology and genomics, and xenotransplantation. In addition to peer-reviewed original clinical and basic science research articles, Transplantation publishes in-depth commentary and coverage of new research, short reports for fast dissemination of the latest research in the field, and forum articles on social and ethical issues and controversies. Transplantation is published once a month and presided over by an international editorial board, and will celebrate its 60th anniversary in 2016.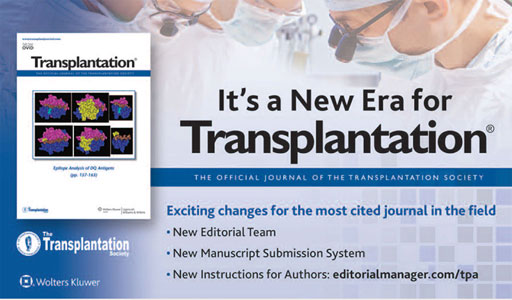 Launched in January 2015, Transplantation Direct is an open access portal for international transplantation with rapid electronic publication of peer reviewed, high quality basic research and clinical studies related to the field of transplantation. The journal seeks to provide both scientific innovation and educational material, to disseminate vital registry database information and to highlight key scientific advances presented at meetings held by the global transplantation associations. The inherent flexible capacity of multimedia electronic publishing will be combined with high standards of peer review set by exceptional leaders within The Transplantation Society to allow for an inclusive, comprehensive, and yet rigorous approach to presenting significant developments in transplantation.