Announcing the 2014 World Transplant Congress
---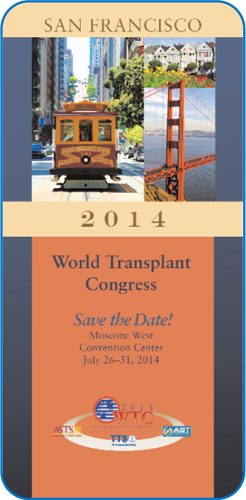 Save the Dates: July 26-31, 2014!
---
In 2006, the largest international conference in the field of organ transplantation was held in Boston, Massachusetts, designated as The World Transplant Congress (WTC). This historic meeting was the result of collaboration among The Transplantation Society, the American Society of Transplant Surgeons, and the American Society of Transplantation. Attendance reached a record high of over 6,500 participants as well as an additional 1,000 exhibit personnel.
The success of the 2006 WTC has propelled the three societies to join together again in developing another special event—they have selected San Francisco, California as the venue for the next WTC. The 2014 WTC is anticipated to be the largest and most comprehensive meeting of its kind.
As a venue, San Francisco is one of the top tourist destinations in the world, renowned for its cool summer temperatures, steep rolling hills, and eclectic mix of architecture, as well as its famous landmarks, including the Golden Gate Bridge, cable cars, and Chinatown. The city is also a principal banking and finance center, and home to more than thirty international financial institutions, helping San Francisco rank as one of the world's top producing cities and global financial centers. In addition to the many landmarks and well-known heights and sights, be sure to make time for the city's maritime heart—its waterfront, much of which has been refurbished.
When planning your attendance at the 2014 WTC, consider adding time to do a pre- or post-excursion to San Francisco's famous wine country, Sonoma or Napa valley. There will be information available regarding tours as the meeting gets closer.
The Program Committee, chaired by Barbara Murphy, will offer a wide range of learning opportunities, including basic science and clinical symposia. A record number of presentations is anticipated for 2014 WTC, recalling that the 2006 WTC received over four thousand abstract submissions.
Again, please save the dates and plan to attend the World Transplant Congress on July 26-31, 2014, and be a part of transplant history.