IXA Update - September 2019
IXA Munich Congress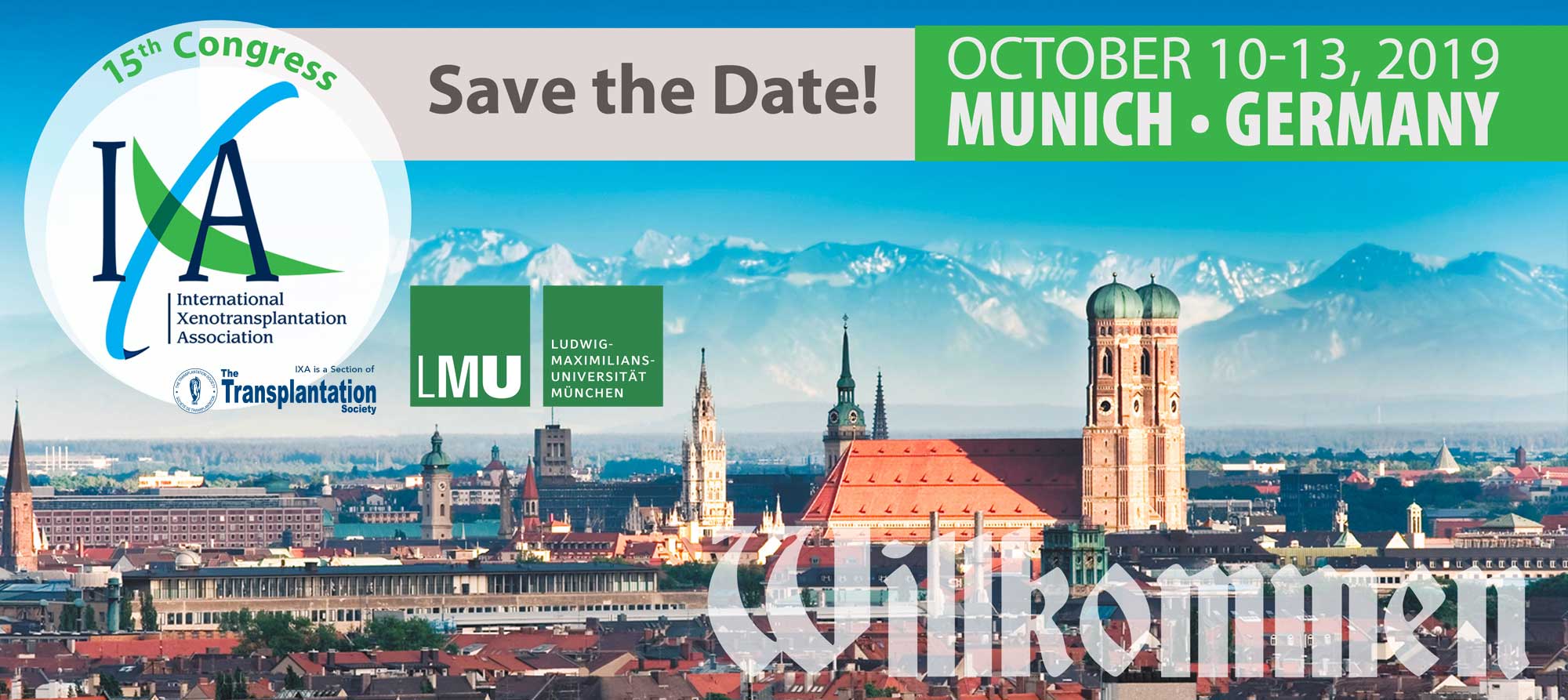 Don't forget the 15th Congress of the IXA is rapidly approaching on October 10-13th. If you have not already made your plans to attend IXA 2019 now is the time to do so! Online registration to attend is still open.
Also on the website are tabs to general information about Munich and the Program, as well as additional links of interest. Beautiful mountain sceneries, Marienplatz, gothic buildings, Englischer Garten, Bavarian museums are among Munich's highlights, Viennese-style cafes, beer halls and gardens, live music, shopping, there is an attraction for everyone in Munich!
Munich 2019 - For Young Investigators
Young members of the IXA are especially encouraged to attend the Congress. Significantly subsidized Student/Fellow/Trainee tickets are available to attend the Program and the Congress Dinner at very affordable rates. Please see details on the Registration-Information page. We hope to see many new faces this year!
In order to make IXA 2019 a more memorable and rewarding experience for young investigators and as part of a new initiative of the Vanguard Committee, we are offering several exciting activities focused on the needs of our newer or less established members. These include:
A dedicated area set aside for one-on-one mentorship opportunities during the Welcome Reception on October 10th (19:00-21:00). Don't miss this unique opportunity for one-on-one quality time with some of our most established colleagues in the field of xenotransplantation. All trainees who have had an abstract accepted at this year's event are automatically scheduled for an appointment. Please contact This email address is being protected from spambots. You need JavaScript enabled to view it. if you are interested in participating or have not received your confirmation. Remember, slots are limited so don't delay!

An "Ask your burning questions" career development lunch session on October 11th (12:30-13:30) will be hosted by some of our members dedicated to advancing scientists in their careers. This open discussion forum includes topics such as how to manage a post-doc career and publishing successful manuscripts, and is open to trainees of all levels. Lets make this the first of many such events!

The Young Investigator Session on October 11th (15:40-16:40) in which the top abstracts submitted by trainees will be presented. Come and see what the next generation of science looks like and cheer on our student colleagues!

In addition to these Young Investigator focused events, the Congress Dinner on October 12th (19:30-23:00) offers a subsidized reservation fee of only $35 US for qualified trainees (please, see website for details on how to register). This year, the Congress Dinner is taking place in the very relaxed and fun setting of Germany's famous beer hall "Hofbräuhaus."  Great networking opportunities are as sure to be as plentiful as the beer and food that Munich is known for. Don't miss this once in a lifetime opportunity to experience it. All of our Executives and Councilors will be attending IXA 2019 so make sure to reach out and meet them in person! They would be glad to hear from all members about their thoughts on important matters concerning the field and the Association.
All of our Executives and Councilors will be attending IXA 2019 so make sure to reach out and meet them in person! They would be glad to hear from all members about their thoughts on important matters concerning the field and the Association.
The Xeno Prize

The Carl-Gustav Groth Xeno Prize sponsored by the IXA and the publisher of Xenotransplantation (Wiley) is awarded to the first author of the best paper published in the journal Xenotransplantation each calendar year.  Each year, distinguished members of the IXA along with the Editor-in-Chief of the journal face the daunting task of winnowing down the list of articles until only one remains. This task becomes more challenging each year thanks to the fascinating and informative scholarship of our members. This year's prize will be presented at IXA 2019 in Munich.
The Xeno Prize is dedicated to Carl-Gustav Groth, a pioneer in the Xenotransplantation field. For those of you who never had the chance to meet him, please follow the link:
Thank you for participating in the survey
All current IXA members should have recently received an email inviting them to participate in a survey to help our President and Councilors plan our future course. Administrators and Honorary members received an additional survey as well. These surveys are now closed and we will begin the process of evaluating the responses. We would sincerely like to thank all members who took the time to respond to the surveys. One participant has been randomly selected to receive a 1-year waiver of membership fees, that person will be announced soon. We received many valuable and well thought out comments that will help us in our continued mission of serving our members needs and advancing xenotransplantation.