FEATURED ARTICLE - Transplantation

Submitted by Dr Andrea Schlegel, Editorial Fellow,
Transplantation
.
Normothermic Perfusion in the Assessment and Preservation of Declined Livers Before Transplantation: Hyperoxia and Vasoplegia-Important Lessons From the First 12 Cases.
Watson CJE, Kosmoliaptsis V, Randle LV, et al.
Transplantation. 2017 ;101(5):1084-1098
Cellular therapy using human regulatory macrophages (Mregs) to promote immune regulation is under evaluation in early phase clinical trials in kidney transplantation.
Christopher Watkins and co-workers from Cambridge report on their data of a normothermic preservation program using declined livers. The group assessed previously DCD (n=9) and DBD livers (n=3) after a median cold storage of 7.1 hrs on a normothermic perfusion device using a erythrocyte-based perfusate. Perfusion parameters and markers of liver injury and function were routinely measured, including mean arterial perfusion flow, arterial pO2, ALT- and lactate release and Glucose metabolism, cumulative bile production and bile ph. In addition, authors assessed cardiovascular stability of liver recipients after graft implantation including the amount of required inotropes and the rate of later biliary complications. The median perfusion duration was 4.7 hours. Though all twelve human livers achieved the current viability criteria during normothermic assessment, 5 recipients (in the first set of 6 livers) experienced a severe postreperfusion syndrome with sustained vasoplegia. Authors reduced therefore the oxygen tension during normothermic perfusion of the second set of livers (No.7-12). 11/12 patients are alive at a median of 12 months. This study demonstrates the potential of using normothermic preservation to increase the availability of livers for transplant. Avoiding hyperoxia may prevent postreperfusion syndrome and vasoplegia.
---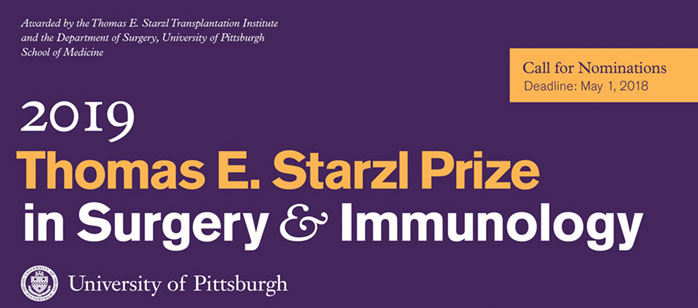 ---
The Thomas E. Starzl Transplantation Institute is accepting nominations for the 2018 Thomas E. Starzl Prize in Surgery and Immunology, awarded annually to a national or international leader in the field of organ transplantation and immunology.
Deadline May 1, 2018 - Click for details
---
Transplantation Science Awards - Deadline May 31, 2018
The TTS Transplantation Science Committee together and Transplantation are pleased to announce the best manuscripts published by the journal in 2017. Named after two pioneering giants, a selection committee that included editors of Transplantation, The Transplantation Society, in addition to members and chairs of the Transplantation Science Committee will select two winners amongst a very competitive group of publications.
Click here for to nominate someone today!
---
TTS 2018 - Challenging Cases Competition

Deadline: March 18, 2018
Are you involved in managing challenging transplant cases?
If yes, the Scientific Program Committee of the TTS 2018 congress in Madrid is inviting you to submit the most challenging case you were involved with.
The invitation is open to TTS and non-TTS members who are studying/training in any transplant related discipline (students, interns, residents, fellows or post-doctoral fellows). The submitters of the top three ranked cases will be invited to present these cases in a clinical crowdsourcing session at the post-graduate course (PGC) that will precede the TTS 2018 Congress. The winners will receive a complementary registration to the PGC and a Young Investigator Award of US $1000. Description of the case should not exceed 300 words.
CLICK HERE to submit your case!
---