Leadership Series Videos Now Available

---
TTS Transplantation Leadership Series webinars were designed to encompass necessary topics to assure success within key business practices used by medical professionals. The Series was part of a 6-month Leadership program completed in the Spring of 2018. Due to the valuable content of these webinars, TTS has decided to share them with TTS members (Requires TTS Member Login).
Mark Briesacher
Leading the Future of Healthcare: How mission-led organization succeed through pivotal trends and constant change

Caryn Corenblum
Brain Savvy Leadership Organizational Skills

Susan Lieff
Academic Leadership Paradigms and Practices

Elizabeth Rider
Leadership Strategies, enhancing communication, relationship and values

Dorry Segev
Data Driven Decision Making for Leaders

James Stoller
Leadership, Collaboration and Change in Healthcare

Teri Turner
Leading Innovations
ELPAT LATE ABSTRACT SUBMISISON Deadline
January 14, 2019

ELPAT is a European platform that brings continuity and progress in European research and dialogue on 'Ethical, Legal and Psychosocial Aspects of organ Transplantation'. The theme of this ELPAT congress is Developing dialogue – Pioneering Practice. We aim to (1) create a multidisciplinary scientific forum for in-depth discussion of issues that are currently challenging the field and (2) through this dialogue to pioneer practices that contribute to improvement in outcomes in transplantation.
In the News
A medical rarity: Two patients get back-to-back, triple-organ transplants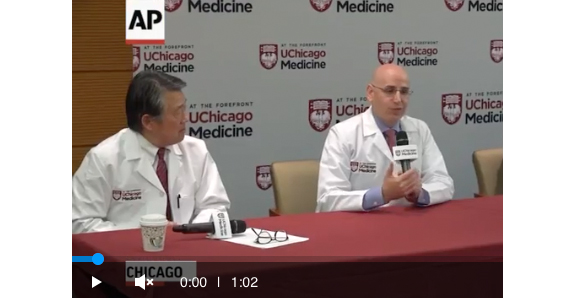 Source (AP) - Pictured left to right - John J. Fung, Nir Uriel
January 4 - Two 29-year-old transplant patients who underwent the same rare surgeries at University of Chicago Medicine made history after receiving triple-organ transplants to replace their hearts, livers and kidneys–which were all failing.
First woman pregnant after robot-assisted uterine transplantation
January 9 - The well-known research on uterine transplantation in Gothenburg is now supported by robotic surgery. This change has made operating on the donors considerably less invasive. After the technical modification, a first woman is now pregnant.
---
Poor state of kidney care in South Asia for those without means: Study
January 9 - People mostly the poor suffering from Kidney diseases, are not getting adequate treatment facilities in the South Asian countries including Bangladesh, said an international study.
---
Biomedical Research Highlighted in Science's 2018 Breakthroughs
January 2 - The journal Science announced its much-anticipated scientific breakthroughs of 2018. In case you missed the announcement, it was another banner year for the biomedical sciences.
---
Unethical experiments' painful contributions to today's medicine
January 9 - CNN - Chinese scientist He Jiankui sent shockwaves around the world last year with his claim that he had modified twin babies' DNA before their birth. The modification was made with gene editing tool CRISPR-Cas9, he said, and made the babies resistant to HIV. Scientists from China and around the world spoke out about the experiment, which many say was unethical and not needed to prevent the virus. The scientist had also been warned by peers not to go down this path.