In the News
Portuguese Researchers Review Potential of 4D Bioprinting in Regenerative Medicine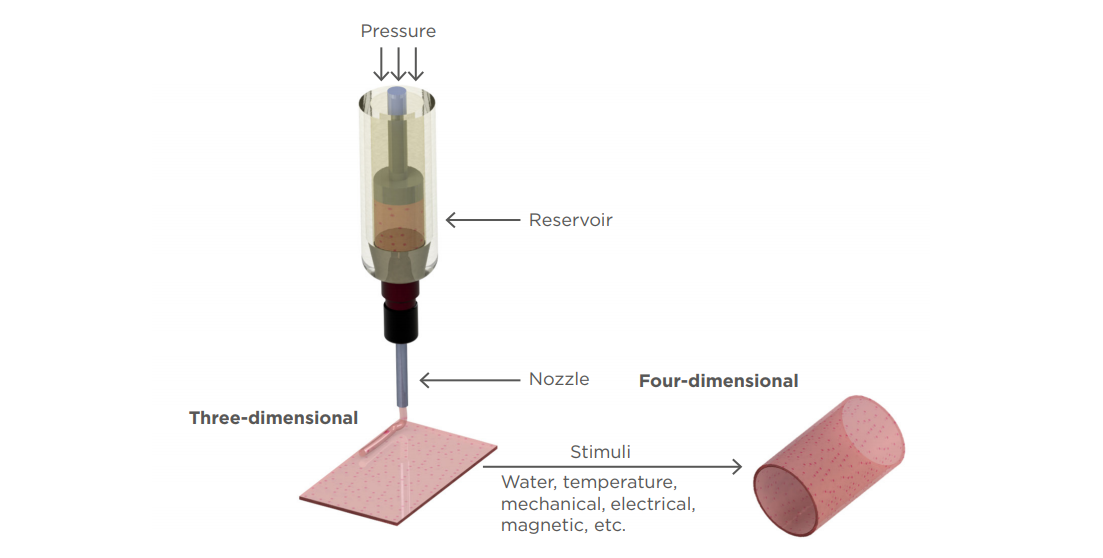 IPHOTO: This image shows how antibodies (Y-shaped) are able to stop specific viral strains from reactivating. (Supplied: Mariapia Degli-Esposti, Leonie Herson/Squarecell)
January 28 - 3D printing has been progressing rapid-speed over the past few years, with numerous forays to the next level into 4D printing, whether in serious world-changing endeavors or those that are creative and sometimes even whimsical, such as fashion. Now, researchers see that 4D advancements in bioprinting may trickle down to doctor's offices too. Authors Pedro Morouço and João Gil of Biofabrication RDi Group, Centre for Rapid and Sustainable Product Development at Polytechnic Institute of Leiria (Portugal) expand on their findings in Four-Dimensional Bioprinting for Regenerative Medicine: Mechanisms to Induce Shape Variation and Potential Applications.
---
Japan's approval of stem-cell treatment for spinal-cord injury concerns scientists.
January 24 - Nature - Chief among their worries is insufficient evidence that the therapy works.
---
Transplanting pig hearts into sick babies may be a promising temporary treatment option
January 29 - Xenotransplantation—transplanting organs from animals into humans—is one step closer to becoming a possibility for infants awaiting human heart transplantation, according to research presented by University of Alabama at Birmingham researchers at the annual Society of Thoracic Surgeons meeting this week.
---
Blood test shows promise for early detection of severe lung-transplant rejection
January 22 - Researchers have developed a simple blood test that can detect when a newly transplanted lung is being rejected by a patient, even when no outward signs of the rejection are evident. The test could make it possible for doctors to intervene faster to prevent or slow down so-called chronic rejection -- which is severe, irreversible, and often deadly -- in those first critical months after lung transplantation.
---
Minority kidney transplants could increase with new option
January 31 -Kidney transplant recipients are now benefiting from donor organs that do not match their blood type but are compatible and just as safe, according to a Vanderbilt University Medical Center study in the Journal of the American College of Surgeons.
---
Why liver transplant waitlists might misclassify high-risk patients
January 24 - A new study has uncovered that the standard method for ranking patients on the waitlist for lifesaving liver transplantation may not prioritize some of the sickest candidates for the top of the list.
---
Exome Sequencing Beneficial for Pediatric Kidney Recipients
January 23 - Whole-exome sequencing (WES) can identify a genetic cause for almost 1-third of pediatric kidney transplant recipients, according to a study published online in the Journal of the American Society of Nephrology.
---
Regenerative Medicine Foundation Awards International Space Station U.S. National Laboratory for Leadership in Stem Cell Research
January 25 - The Regenerative Medicine Foundation awarded the International Space Station (ISS) U.S. National Laboratory the foundation's annual Leadership Award for enabling stem cell and regenerative medicine investigations onboard the orbiting laboratory. The award was presented at the 14th annual World Stem Cell Summit in Miami, Florida..
---
Frailty Tied With Cognitive Impairment After Kidney Transplantation
January 28 - Frail kidney transplant (KT) recipients experience cognitive improvement soon after transplant surgery, but their cognitive performance slips over the next few years. In a study of 665 KT recipients (mean age 52 years), 15% were frail based on the Fried physical frailty phenotype. Before transplantation, frail patients scored lower than their nonfrail counterparts on cognitive performance (89.0 vs 90.8 points) on the Modified Mini-Mental State Examination testing orientation, attention, language, and memory.
LAST CHANCE TO REGISTER - February 1, 2019


FREE Online Course for TTS MEMBERS AND the MEMBERS OF THEIR TEAMS
Early Registration is NOW OPEN - IT Just Takes ONE MINUTE TO REGISTER!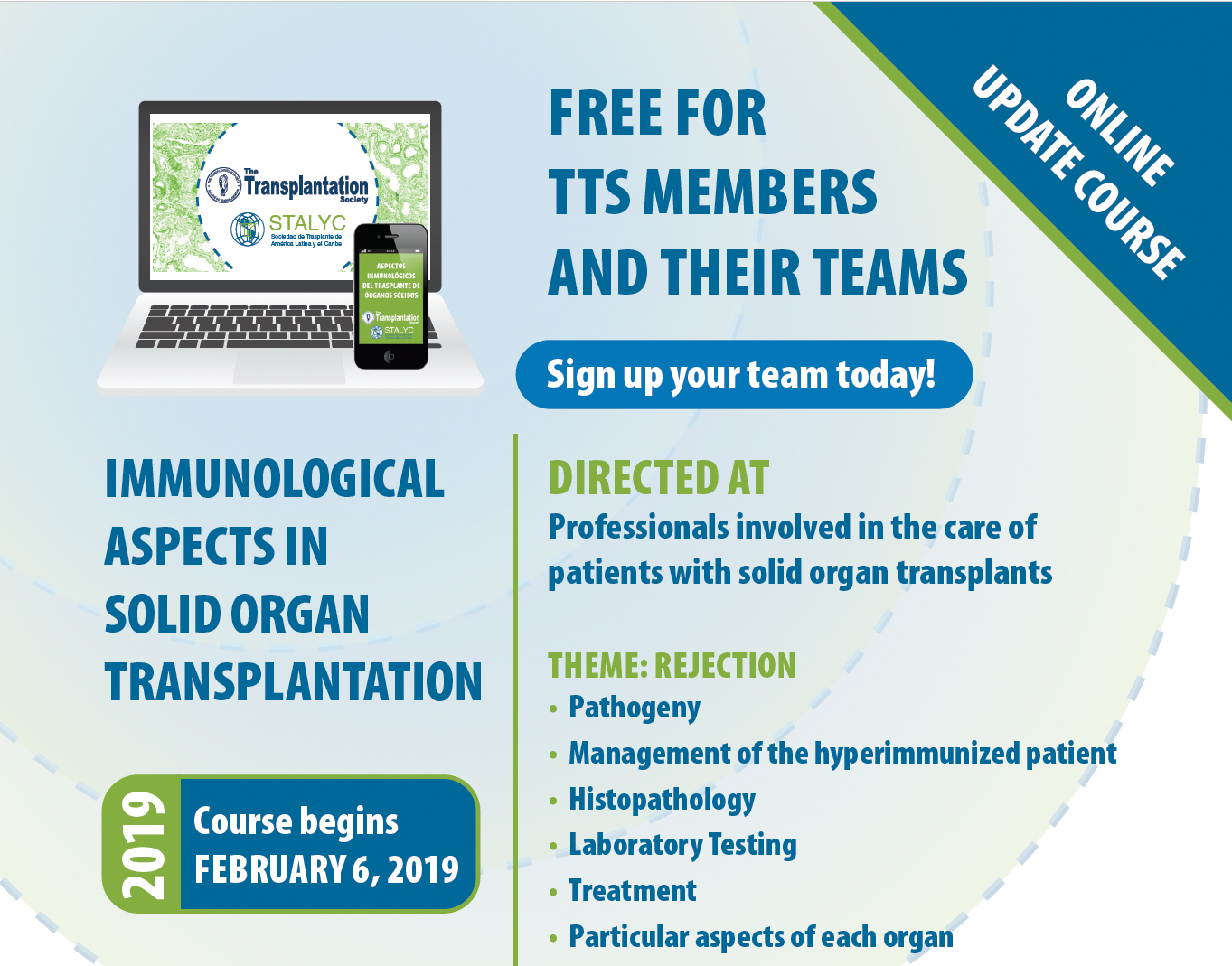 Following up on the great success of the Course in Spanish and Portuguese, we have decided to expanded the course to english AND made it available for free to participate in for TTS Members and those in their transplant teams.
Over an eight week period, featuring 20+ online presentations, we will guide you through all the important aspects in immunology.
The course was designed to allow participants to learn at their own pace and time during each week of the course. You can post questions and tutors will respond to them.