TTS EDUCATION COMMITTEE'S PRECISION MEDICINE WEBINAR SERIES - NEW RELEASE!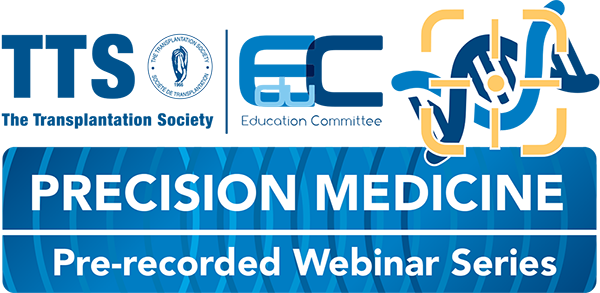 Today, we release the next webinar in the series. Dr. Philip Halloran presents on the Molecular Microscope and the unmet need for precision pathological diagnosis. This webinar is moderated by Dr. Jon Kobashigawa. Still available, last month's webinar presented by Maarten Naesens on System Biology and precision Transplantation Medicine. Log in and take advantage of writing questions to the moderators and presenters in your own time.
*Note, you must be logged in to participate.
CLICK HERE TO VIEW
AUGUST 21 - WEBINAR ANNOUNCEMENT

TITLE: FIRST VCA (UPPER EXTREMITY)
WEDNESDAY, AUGUST 21, 2019 - 11:00 AM EDT (MONTREAL TIME)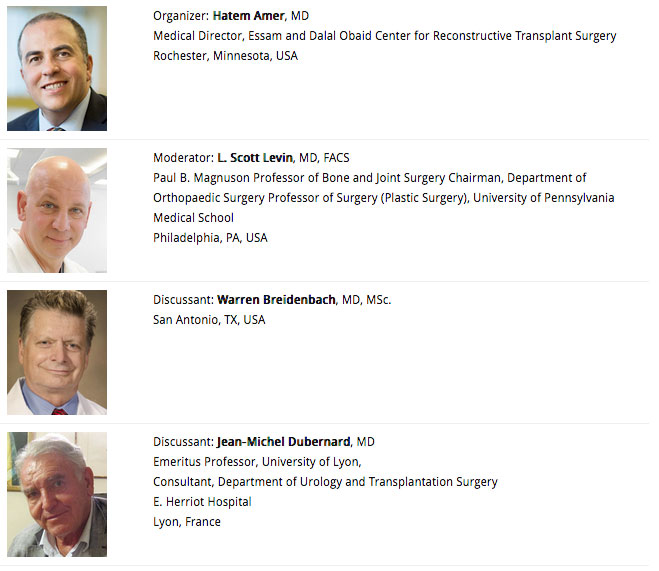 Objectives:
This webinar will provide Participants with firsthand insight from the pioneers of the field on how the first-hand transplants came to be and their vision for the future.
The speakers will critique the reasoning for attempting UE transplants, enumerate the steps taken prior to the first clinical cases and describe how the original teams were assembled.
CLICK HERE TO SIGNUP AND LEARN MORE
KDIGO HOLDS LANDMARK CONFERENCE ON KIDNEY NOMENCLATURE

(Brussels, Belgium) - Kidney Disease: Improving Global Outcomes (KDIGO) held a major conference on 27 – 29 June, in Amsterdam, to discuss improving patient-centeredness and precision of terms used by the global kidney community to describe kidney disease and kidney function in scientific articles, communicating with each other and speaking with patients.
The conference was led by Andrew Levey of Tufts Medical Center in Boston, Kai-Uwe Eckardt of the Charité in Berlin, Nijsje Dorman, Managing Editor, American Journal of Kidney Diseases and Stacy Christiansen, Managing Editor of JAMA and chair of the AMA Manual of Style Committee. In attendance were editors and associate editors from major kidney journals as well as several general and specialty clinical journals along with distinguished scientists and authors.
Dr. Levey said, "Prior to the conference we conducted a survey and commissioned a series of patient focus groups. All were asked if we could be doing better. I am really pleased that patients and experts showed a willingness to discuss more effective language for describing some aspects of kidney disease and kidney function."
According to Dr. Eckardt, "Conference attendees shared the view that nomenclature is important in a number of ways, including communication within the medical community and with patients, perception of disease and planning of research and disease management. We are confident therefore that uniform and precise language will facilitate strategies to improve patient care and outcomes."
Nijsje Dorman, who conducted the participant survey, emphasized that implementing changes to nomenclature in medical journals will take effort by editors and authors to ensure clarity and maintain high standards for publication.
Conference attendees discussed in plenary sessions and breakout groups a glossary of terms to describe kidney function, kidney disease and therapeutic modalities and finally agreed on a list of preferred terms.
Stacy Christiansen stated that the current edition of the style manual did not include a section on kidney nomenclature but the updated edition, to be released later this year, would include the statement, "A global organization dedicated to developing and implementing evidence-based practice guidelines in kidney disease, KDIGO, is spearheading an international effort to revise the nomenclature and to describe kidney function and disease. Their effort will focus on making terminology more patient centered and more precise with a goal of greater uniformity in medical practice, research, and public health."
Dr. Wolfgang Winkelmayer, KDIGO Co-Chair, said, "We are proud that KDIGO organized and hosted this conference and brought together such an important group of people. This reflects our commitment to the highest scientific rigor and patient centeredness in our products and real-world applications."
The conference leaders are currently working on a report to be published in a few months along with a glossary of terms for journal authors and editors. Editorials or commentaries may appear in several journals describing this new approach to nomenclature. It is hoped that the next edition of the AMA Manual of Style will include some of the conference insights.
KDIGO is a Belgian foundation committed to developing and implementing nephrology guidelines that improve patient outcomes on a global basis.
For further information please contact KDIGO at KDIGOcommunications@kdigo.org.