UPCOMING DECLARATION OF ISTANBUL CUSTODIAN GROUP SPONSORED MEETINGS

On 22 October 2019, the DICG and STALYC bring together representatives and professionals of 20 Latin American countries for a special symposium on Transparency in Organ Donation and Transplantation for Latin America just prior to the XXV Latin American and Caribbean Transplant Congress, in Merida Mexico. The objective of the meeting is the best understanding and search for strategies to prevent organ trafficking and transplant tourism in the Latin American region, it is sought to generate a joint document based on the conclusions of the event, all in line with the principles of the Istanbul Declaration and the Aguascalientes Document 10 years after its publication. On 24 October 2019, in the special DICG Session, leaders from around the world will discuss the role of the healthcare professional in preventing and combating organ trafficking and transplant tourism.

CLICK HERE TO VISIT THE STALYC 2019 WEBSITE
With the focus of organ trafficking issues in Asia, the DICG brings together regional and world leaders to discuss Asian specific challenges to develop and implement ethical transplant practices on 1 October 2019 at the 16th Congress of the Asian Society of Transplantation, in New Delhi, India.

TOND-TDTD - SAVE THE DATES - OCTOBER 10-11, 2019!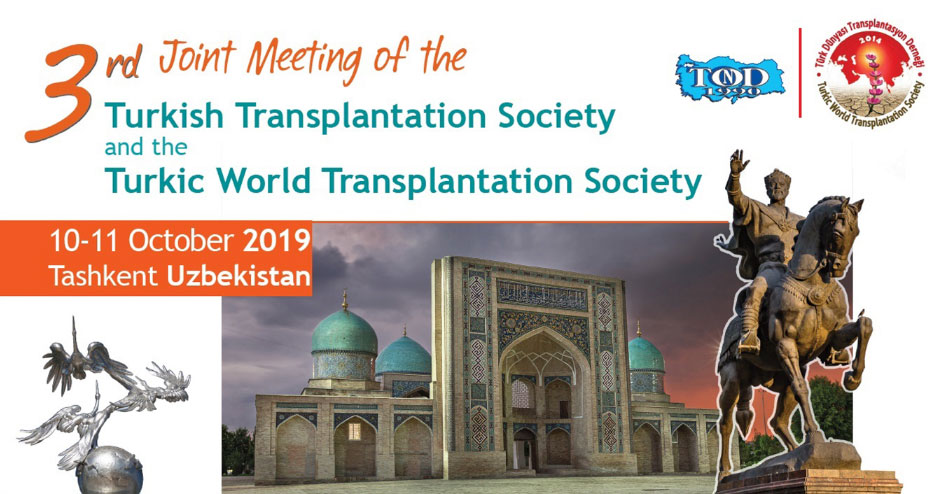 The 3rd Joint Meeting of the Turkish Transplantation Society and the Turkic World Transplantation Society will be held in Tashkent, Uzbekistan on October 10-11, 2019. The Scientific and Local Organizing Committees, comprised of international transplantation leaders, have developed a program that reflects current problems and represents a collection of scientific, educational, and practical information. The meeting will be an exciting opportunity for transplant professionals to share their expertise as well as their concerns regarding the development of the field in their own countries.
INTERNATIONAL TRANSPLANTATION SCIENCE MEETING 2019
ITS 2019 is set for Nov. 10-13 in Clearwater Beach, Florida. Keynote speakers include Katherine High, President and Head of R&D at Spark Therapeutics, and Ronald Germain, chief of Laboratory of Immune System Biology and Lymphocyte Biology Section at the National Institute of Allergy and Infectious Diseases National Institutes of Health.