Basic Science Committee Update
---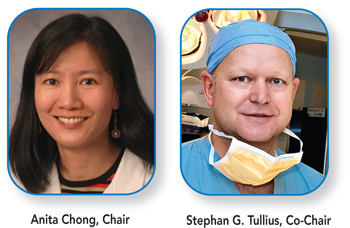 Discoveries in the basic sciences have been critical in moving the clinical practice of organ transplantation forward. Both clinicians/scientists and full-time basic researchers contribute in bringing transplantation to a new level. In the past two years, the Basic Science Committee, chaired by Anita Chong, University of Chicago and Stefan G. Tullius, Harvard Medical School, has focused on supporting young researchers and the relationship between mentor and mentee. At the 2012 Berlin Congress, TTS will present up to a total of 34 International Basic Science Mentee-Mentor Awards. TTS is extremely proud that 29 of these awards are in partnership with 8 societies: Australian/New Zealand (TSANZ), British (BTS), Canadian (CST), European (ESOT), French (SFT), German (DTG), and Japanese (JTS) transplantation societies. A total of 5 Mentee-Mentor Awards for applications from emerging economies will be supported solely by TTS.
The Basic Science Committee recently received applications for a brand-new TTS International Basic Science Research Exchange Fellowship program (application submission closed on April 1st). Two series of five research fellowships will support established investigators and trainees, respectively, to travel from their host institutions to another laboratory for 3, 6 or 12 months to develop new research collaborations/directions or technologies. Award winners will be announced at the 2012 Berlin Congress in July.
The Berlin Congress has a lot to offer—the Mentee-Mentor and Research awards are only a few of the attractions designed specifically for basic scientists. Awards will be presented at the networking event hosted by the TTS Basic Science Committee and co-sponsored by the German Transplantation Society. Please be on the lookout for details and plan to come to congratulate winners, meet up with old friends and colleagues and make new ones. We are looking forward to seeing you in Berlin!
---