TTS President's Message

I am very pleased to announce that the International Pediatric Transplant Association (IPTA) will be joining The Transplantation Society as a new Section, and I would like to welcome all its members to TTS. This is a significant milestone for both organizations, and I am confident that all our members will be able to take advantage of the synergies resulting from increased cooperation and the strengthening of our transplantation network. Pediatric transplantation is an important field, focusing on a special and vulnerable population with unique challenges technically, medically, and psychologically. As with all our Sections, we are committed to providing IPTA the support it needs to address these issues, while gaining expertise and insight in a critical field which has been historically underrepresented in TTS.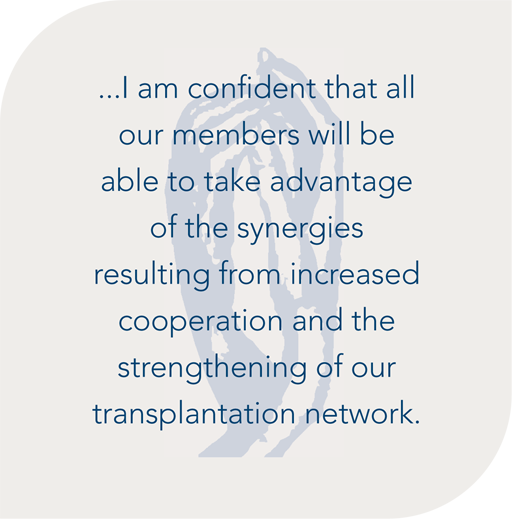 IPTA's inclusion in TTS will provide members with access to new educational opportunities. Those whose work focuses on developing areas where there is a mixed child-adult practice, for instance, will be able to draw from IPTA's wealth of knowledge. IPTA members in return will gain access to TTS' comprehensive educational material and knowledge base, particularly with regards to science and public policy. As our first joint venture, TTS will be recording the IPTA presentations at its 2015 Congress and providing them free of charge to all IPTA members. I also urge those IPTA members who are not yet members of TTS to consider becoming members and gaining access to additional benefits. More information can be found on our website and in this issue of the Tribune.
Finally I would like to welcome all IPTA members to TTS. We are thrilled to have IPTA join the TTS group, and I look forward to meeting many of you for the first time. My deep-felt thanks goes to the IPTA President, and former TTS Vice President, Dr. Ron Shapiro, for his dedication and enthusiasm in this effort. I would also like to thank the IPTA Executive Committee and Council Members for their ongoing commitment and participation in an open dialogue with the TTS Council. I look forward to continuing to work together to strengthen communication and cooperation in the field of transplantation.
This is an exciting opportunity, and I wish everyone the best as we go forward together.