Letter from the President
---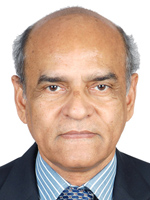 The mission of International Society for Organ Donation and Procurement (ISODP) is to encourage the growth of transplantation globally. It endeavors to promote societal attitudes towards achieving self sufficiency in organ donation. Whereas the region of Europe and North America are way ahead in transplant rates though still grappling with growing waiting list the region of Middle East and Far East witnesses low transplantation activity. Here the ISODP has to act as a bridge to foster better understanding of dynamics of donation, legislative mechanism, societal awareness through education and public awareness between the two extremes. Moreover high ethical standards are paramount in transplantation as both donor and recipient are members of the community where equity and justice are equally important for success.
Cultural taboos, which sometimes have religious connotations have pushed back the growth of transplantation in the vast continent of Asia. It touches the poorer nations e.g. India and Pakistan but equally affects Japan being one of the largest economies. These barriers have to be broken through education and transparency in transplantation where ISODP can be of great help.
Another ISODP endeavors is to fulfill its ideals by exchange of views and information by holding conferences across the world. A highly successful congress was held under Dr. Carlos Soratti and his colleagues in Buenos Aires in November 2011. It showed excellent collaboration with Iberoamerican Society of Transplant Coordinators which enhanced the registration to 949 participants. We also heard in this congress about the successes in Columbia and Croatia due to collaboration of government, legislators and society at large which translated into enviable high transplantation rates so rapidly. ISODP moves to the Asia Pacific region to Sydney in November 2013. The vast experience of Dr. Jeremy Chapman as Chairperson holds promise of an exciting week of deliberating in the challenges in organ donation and procurement.
---
S.A. Anwar Naqvi, MBBS, MCPS
Professor of Urology, Sindh Institute of Urology and Transplantation
ISODP President