Methylmalonic Acidemia (MMA) is a rare inherited metabolic disorder in the family of organic acidemias. The disease is inherited in an autosomal recessive manner. The term isolated MMA refers to a group of inborn errors of metabolism associated with elevated MMA in the blood and urine that results from the failure to convert methylmalonyl-coenzyme A into succinyl-coenzyme A in the mitochondrial matrix. This is caused by a deficiency of methylmalonyl-CoA mutase (MMUT), resulting in accumulation of MMA.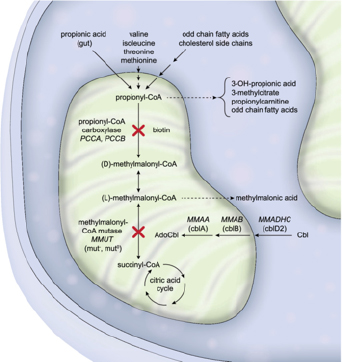 Fig 1: The lower red X illustrates the step leading to accumulation of MMA from the lack of MMUT.1
The infantile non – B12 responsive form is the most common form. It is diagnosed in infancy, with newborn metabolic screens that assess of high levels of metabolic byproducts. Clinically, MMA is characterized by a variety of symptoms, including metabolic crises, neurocognitive delay and end-organ dysfunction. Furthermore, it is associated with various systemic sequelae, including optic, sensorineural hearing loss, cardiomyopathy, renal dysfunction, osteoporosis, and poor growth. To manage the accumulation of MMA, dietary restrictions are followed, with protein calorie restrictions, and frequent meals.
Solid organ transplantation, while not curative, is an important treatment in MMA. The three types of transplants that are done are kidney alone, liver alone or combined liver and kidney transplants. Organ transplantation practice varies with center. In young children in the absence of renal failure, isolated liver transplant has been described. Here, the potential benefits are improved metabolism of MMA prior to years of accumulation and cellular injury. On the other hand, older children with renal dysfunction have received combined liver and kidney transplants, as well as isolated kidney grafts.
Kidney transplantation alone in the setting of compromised renal function may result in long term improvement in renal function, but recurrence of nephropathy and metabolic instability are common. Kidney function may also deteriorate, and protein restriction and enteral nutritional strategies are still necessary. A significant number of recipients require retransplantation.2 In a French experience2, 50 % of kidney transplant recipients were considered for re-transplantation after a few years.
Early liver transplantation, before kidney deterioration occurs, may delay the need for kidney transplant for years and is done primarily for metabolic control in patients with preserved renal function. In an overview article of the current literature, Yal et al.3 reported that of 167 patients transplanted for MMA, 114 received a liver alone, while 32 received a combined liver-kidney transplant.
Cardiomyopathy associated with MMA may also be ameliorated following liver transplantation, although this is not a universal occurrence. Severe cardiomyopathy is a contraindication for transplantation.3
Combined liver and kidney transplants have been reserved primarily for those children with MMA and renal impairment3. Renal dysfunction in MMA may be due to intrinsic mitochondrial dysfunction from MMA accumulation and tubule-interstitial nephritis, simultaneous kidney transplantation is advised for improved renal function.
Contrary to the preponderance of liver transplants alone in the multicenter review, a single center experience4 reported that of 14 patients with MMA, 6 patients underwent a single liver transplant, while 8 had a combined liver-kidney transplant. All patients who received a combined transplant had compromised renal function and most were on hemodialysis.
Both liver and kidney grafts contain MMUT activity. While all recipients of either single kidney or liver transplants experience reduced levels of serum MMA, recipients with a liver graft have pronounced effect on MMA serum levels. However, patients who receive combined liver-kidney transplants, regardless of the preoperative renal function, experience more profound and longer lasting reductions of urinary MMA than either single kidney or liver transplants alone.2
While solid organ transplant alleviates symptoms due to metabolic crises, the build-up of MMA in the CNS persists. This can cause persistent neurologic symptoms and remains an ongoing challenge. The occurrence of metabolic crises after transplantation for MMA vary from center to center. Nakamura et al reported a high occurrence after liver transplant alone5, while others4 report no metabolic sequelae. Metabolic strokes have also been reported following liver transplants6 whereas this appears to be more uncommon as a complication after combined liver-kidney transplants.
While it is generally accepted that transplantation for MMA is not curative, and that metabolic perturbations in the central nervous system persist, the quality of life of patients with MMA improves after transplantation. A thoughtful approach needs to take place in determining the role of combined transplants, even in the absence of preexisting kidney disease. A multi-center collaboration may be necessary to provide the answer as to whether a combined liver and kidney transplant provides better and more long-lasting metabolic control and better long-term kidney function than liver transplant alone7 even ion patients with preserved renal function.