Society of Pediatric Liver Transplantation
Registration is now open for the 24th Annual SPLIT Meeting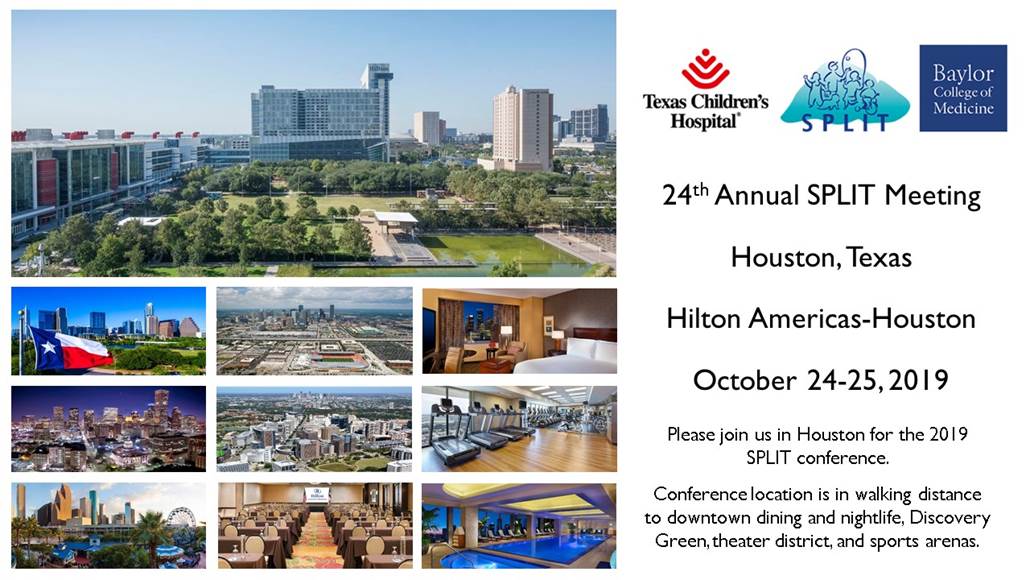 About the Conference
Studies in Pediatric Liver Transplantation (SPLIT) is a community of pediatric hepatologists, transplant surgeons, research coordinators, nurse coordinators and other health professionals across the United States and Canada working together to advance knowledge in pediatric liver transplantation. SPLIT was started in 1995 and has evolved from a research registry into a multifaceted organization focused on improving outcomes for children receiving liver transplantation.
Meeting highlights will focus on:
Unique Transplant Considerations
A Village Approach to Liver Intensive Care
Surgical & Interventional Considerations
The Many Faces of Rejection
Advocacy
Registration Fees:
SPLIT Physician Member - Early $385 / Late $450
SPLIT Trainee / Allied Health Member - Early $285 / Late $350
Physician Non-Member - Early $485 / Late $550
Trainee / Allied Health Non-Member - Early $335 / Late $400
Hotel Accommodations
A block of rooms has been reserved at the following rates (1 King Bed or 2 Double Queen Beds):
Single (1 person) $229/night
Double (2 people) $229/night
Triple (3 people) $254/night
Quad (4 people) $279/night
We have a limited number of rooms reserved. Please make your reservations early to ensure you are able to get a room at the reserved rates. Reserve your room under the group rate, here.
Visit www.splitannualmeeting.com to register or learn more about this exciting event!
We look forward to seeing you in Houston in October!
TTS welcomes SPLIT as an Official Section.
As of 2019 the Society of Pediatric Liver Transplantation (SPLIT) will be an Official Section of The Transplantation Society. SPLIT is a community of physicians, surgeons, nurses and other allied health professionals whose mission is to improve the outcomes in children receiving liver transplantation through research, improving care, training and mentoring, and supporting children and families.
SPLIT News - A recent analysis led by SPLIT investigators
A recent analysis led by SPLIT investigators (Drs. Perito, Hsu, Mogul and Mazariegos) showed that waitlist deaths could be significantly decreased, and liver transplants increased, for children and the sickest adults, by prioritizing children for pediatric livers and with broader national sharing of deceased donor livers, using the Liver Simulated Allocation Model (LSAM) and Scientific Registry of Transplant Recipients (SRTR) data. This SharePeds LSAM manuscript was just made available on PubMed: https://www.ncbi.nlm.nih.gov/pubmed/30720563, and will appear in the forthcoming issue of Journal of Pediatric Gastroenterology and Nutrition.
JOIN SPLIT IN 3 EASY STEPS
Visit our online application form.
Complete the form.
After your application has been approved, you will receive a SPLIT member login
Click here to start the application process
If you are a member of TTS and/or section simply email This email address is being protected from spambots. You need JavaScript enabled to view it. to add this membership to your profile.
For more information about SPLIT membership or other questions, please email: This email address is being protected from spambots. You need JavaScript enabled to view it.
SPLIT Frequently Asked Questions
Since its inception in 1995, SPLIT steadily grew into an established collaborative, integrated infrastructure and community with synergistic platforms in research, education, patient advocacy, mentorship, quality improvement and clinical care. Over the years, SPLIT's primary goal of improving outcomes for children who have undergone liver transplantation were powered via pharmaceutical (SPLIT 1.0), United States National Institutes of Health Grant (SPLIT 2.0), and self-funded (SPLIT 3.0) strategies. As the SPLIT Executive Council looked toward the future, it became clear that joining forces with a self-governing society with vast administrative and infrastructural support such as TTS would ensure the next chapter of SPLIT (4.0) to achieve and excel in our targeted mission to improve the lives of children who require liver transplantation.
The SPLIT Registry will continue to be supported by the Data Coordinating Center (DCC) at Emmes. The Registry website and data system can be found at www.pediatriclivertransplant.org. Participating centers will continue to be invoiced every January to provide $5,000 to support the Registry. Contact This email address is being protected from spambots. You need JavaScript enabled to view it. with any questions.
No. The principal requirement for SPLIT membership is an active interest in improving clinical practice and outcomes of infants, children and teenagers who have undergone liver transplantation, whether it be in the arenas of basic science, clinical research, quality improvement, clinical care, health policy, or patient advocacy.
SPLIT membership benefits include:
Reduced registration fees to our SPLIT Annual Meeting ($100 savings)
Entitlement to apply for Trainee and Advocates Travel Grants to the SPLIT Annual Meeting
Mentorship by leaders in the field
Opportunities to join SPLIT Committees, Writing Groups or Research and Quality Improvement initiatives
Access to past SPLIT Congress educational library
Discount on TTS annual membership ($50 savings)
Please visit our new website www.tts.org/split and click the Donate Now button the left-hand side of the home page.
Thank you for asking, the Houston team is still in the process of finalizing the website but our 2019 meeting which will be held at the Hilton Americas Hotel in Houston, TX from October 23-25, 2019.