---

---

Donate to IPTA Now! Your donation will be used to help IPTA to promote the advancement of the science and practice of transplantation in children worldwide and to serve as a unified voice for the special needs of pediatric transplant recipients.
---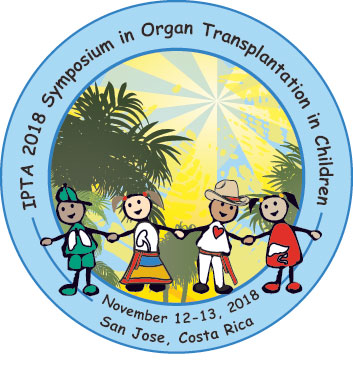 IPTA 2018 Symposium in Organ Transplantation in Children
The International Pediatric Transplant Association is proud to feature a special Section activity: the 2018 Symposium in Organ Transplantation in Children: An educational forum for physicians, surgeons, and allied health professionals.
The focus of this symposium is aimed at clinical and research fellows in pediatric solid organ transplantation, as well as residents, and other allied health professional or non-physician trainees who are planning a career in pediatric transplantation.
The symposium will also provide state of the art information to established physicians, surgeons and allied health professionals who participate in the care of children before or after solid organ transplantation. In this case, a registration fee of $150/ person applies. Maximum capacity for established practitioners will be 50.
---

Pneumosystis Jiroveci (PJP) Survey
Pneumocystis jiroveci (PJP) remains an important pathogen among organ transplant recipients. While there are published guidelines for PJP prophylaxis following transplantation, in practice, there is likely wide variability in the individual approach to prophylaxis. To better clarify the current practice among transplant centers, we are conducting a survey to assess the use of PJP prophylaxis following pediatric solid organ transplant recipients. The link to the survey is included in this edition of the Newsletter. It is approximately 12 questions and should take fewer than 10 minutes to complete.
We appreciate you taking the time to
COMPLETE THE SURVEY
, and all responses will remain anonymous.
---
Ethical Case Request
Do you have cases that keep you up at night? Please share them with us!
Organ transplantation, particularly in children, is a process fraught with ethical questions. We routinely make decisions that can greatly impact our patients' lives with far from perfect information. How poor a prognosis does a patient have to have before he or she is no longer a transplant candidate? How should we weigh non-medical factors when making decisions? What allocation systems should we advocate for or emulate?
Just as encountering technically challenging cases can improve our clinical decision making, one way we can improve the ethical component of our care is by sharing those cases that keep us up at night, those cases we find ethically challenging in our own practice. We would like to invite the membership of IPTA to assist us by submitting their own cases for inclusion in the IPTA newsletter's Ethical Case Series to inform these discussions. The Ethical Case Series, which debuted with September's newsletter, offers an open forum to share these cases with the broader membership of our association.
At this time there is no standardized format for submission, although we ask that you share your own insights into the cases you share. Please send your cases and thoughts about those cases to mfreeman3@pennstatehealth.psu.edu for consideration.
Michael A Freeman, MD, MA (Bioethics)
Pediatric Nephrologist and Clinical Ethicist, Penn State College of Medicine, PA, USA
On Behalf of the International Pediatric Transplant Association Ethics Committee
---
Announcement of New Editors

IPTA is very grateful to Dr. Steven Webber for all of his service to IPTA. He was a founding Council member of IPTA, served as its third President, and for the last 5 years has served as Editor-in-Chief of Pediatric Transplantation.
Dr. Bartosh is a professor of pediatrics, Division Chief, pediatric nephrology and medical director of pediatric renal transplant at the University of Wisconsin, Madison, Wisconson. She has served on several IPTA committees and is currently active on the Education Committee. Dr. Tönshoff is a professor of pediatrics and pediatric nephrology, and the medical director of the pediatric renal transplant program in addition to being the Vice Chairman of the Department of Pediatrics at University Children's Hospital, Heidelberg, Germany. He is currently past president of IPTA.
Drs. Burkhard Tönshoff and Sharon Bartosh will assume their roles as co-editors as of January 1, 2018. Stay tuned for more information in an upcoming editorial in Pediatric Transplantation.
---
Proposals for ipta-sponsored Writing Projects
The International Pediatric Transplant Association is dedicated to advancing the science and practice of pediatric transplantation worldwide, in order to improve the health of all children who require such treatment. To achieve this, part of our mission is to generate and disseminate information in the field of pediatric transplantation to our members and to the transplant community worldwide. This is primarily accomplished through the publication of important original research, review articles, commentaries and summaries to our journal, Pediatric Transplantation.
The journal leadership as well as the IPTA Council have and will continue to support our members in the creation of writing projects for the journal. We welcome proposals for IPTA-supported writing projects, including review articles, consensus documents, and other document types. All proposals will be reviewed by the Publications and Communications Committee, and reviews of the proposal will be provided to the author. Projects approved by the committee will then be reviewed by the IPTA Council with a recommendation made to the journal leadership. There may be overlapping ideas or project plans, and the committee will do our best to link up interested parties that may have similar proposals. Note that all projects will still have to undergo the standard peer-review process, and that not all projects will be approved.
On behalf of the members of the Publications and Communications committee, we look forward to working with you!
Please feel free to send us a note if any questions should arise - you can send inquiries to johnson.jonathan@mayo.edu. We would be happy to informally discuss any potential ideas you may have at any time.
---

IPTA Infectious Diseases Committee Update
The IPTA Infectious Diseases (ID) Committee continues to be actively involved in generating information and guidance to benefit our members and the children that we care for. In many cases, members of the committee are collaborating with other members of IPTA to carry out these projects and develop manuscript and guidance. Amongst our current initiatives, the Committee is working with members of IPTA who participated in the 3rd TTS Consensus Conference on CMV this last spring to provide a pediatric perspective on the soon to be published updated CMV Guidelines. It is anticipated that this will follow a "Question and Answer" format and will be published in Pediatric Transplantation in 2018.
At the request of the IPTA Council, the ID committee has also recruited a group of experts to provide a review manuscript describing the role of emerging mosquito borne viruses (e.g. Zika, Dengue, Chikagunya) and their impact on organ transplantation. We again hope to see this manuscript published in Pediatric Transplantation in 2018. Finally, the ID Committee is working with Dr. Steve Webber to take on the leadership and organization of an IPTA-sponsored Consensus Conference on the Diagnosis, Management and Prevention of EBV Disease and PTLD in Pediatric Organ Transplant Recipients. It is anticipated that the working groups of the Consensus Conference will be meeting through much of 2018 with a goal of a face to face meeting to finalize recommendations sometime in the Fall of 2018.
---
Recent publications of interest in the arena of antibody mediated rejection
Jordan, SC et al. IgG Endopeptidase in Highly Sensitized Patients Undergoing Transplantation. N Engl J Med. 377: 5: 2017

This is a report of 25 highly sensitized patients transplanted in 2 countries (Sweden, USA), with IdeS in an open label phase 1-2 trial of desensitization and transplant. IdeS, a cysteine protease, is an IgG-degrading enzyme derived from Step pyogenes. It is an endopeptidase that cleaves human IgG into F(ab')2 and Fc fragments inhibiting complement-dependent cytotoxicity and antibody-dependent cellular cytotoxicity. Immunosuppression protocols differed significantly between the 2 countries. IdeS was shown to reduce or eliminate donor-specific antibodies and permitted HLA-incompatible transplantation in 24 of the 25 patients. There was a single allograft loss due to hyperacute rejection and 5 patients developed antibody mediated rejection.
Choi J., et al. Assessment of Tocilizumab (Anti-Interleuken-6 Receptor Monoclonal) as a Potential Treatment for Chronic Antibody-Mediated Rejection and Transplant glomerulopathy in HLA-Sensitized Renal Allograft Recipients. AJT. 17. 2017

This is a single center, open label report of 36 renal transplant patient with cAMR plus DSAs and transplant glomerulopathy who were treated as rescue therapy (progressive dysfunction having failed treatment with IVIg plus rituximab with or without PLEX), with monthly infusions of the anti-IL-6 receptor monoclonal antibody tocilizumab. Tocilizumab binds to both soluble and membrane-bound forms of the IL-6R and is approved by the FDA for treatment of rheumatoid arthritis and juvenile idiopathic arthritis. Significant reductions in DSAs and stabilization of renal function were seen at 2 years. Confirmation of this uncontrolled report, of course is necessary.
Clayton PA, Coates P. Are Sensitized Patients Better off with a Desensitization transplant or waiting on dialysis? Kidney International. 91. 2017

Although this article refers to 2 manuscripts (N Eng J Med: 374: 940-959. 2016 and Lancet; 389:727-734. 2017) which report conflicting results regarding the survival benefit of transplantation in sensitized adult kidney transplant patients, the questions addressed are not different for children. Wait for a well matched kidney or desensitize and attempt transplant??
---

<
| MEMBER LEVEL | 1 Year (USD) | 2 Years (USD) |
| --- | --- | --- |
| Physicians | $225 $200 (USD) | $400 $380 (USD) |
| Trainees | $115 $75 (USD) | $210 $140 (USD) |
| Allied Health | $115 $100 (USD) | $210 $190 (USD) |
| Emerging Economy | $55 (USD) | $100 (USD) |
INVITE YOUR COLLEAGUES TO JOIN IPTA by forwarding this message!
4 GRAND PRIZES TO WIN!
For every referral, you get a chance to win one of three 2 year memberships or free registration to the IPTA 2019 congress!
In addition to reduced membership fees, there are lots of other important reasons to become a member of IPTA!
Great opportunities to network and develop mentor/mentee relationships with other IPTA members. Networking opportunities include:


The IPTA online member directory
Symposium networking events
Committee participation
List-serve participation with questions specific to pediatric transplantation



Up-to-date pediatric educational opportunities from the top leaders in the field of pediatric transplantation:


Online subscription to the IPTA Journal: Pediatric Transplantation
Discounted journal subscription rates for Transplantation, Transplantation Proceedings and Transplantation Reviews
Biennial Fellows Workshops (The 2018 workshop will be held in Costa Rica)
Access to the IPTA 2015 and 2017 Congress recordings
Reduced Congress registration fees for the 2019 Congress in Vancouver
Trainees and Allied Health members are eligible to apply for travel awards for the biennial Congress



The IPTA quarterly newsletter that includes:


Case studies dealing with key ethical issues to spark awareness, education and discussion
Literature reviews
Committee initiatives and updates
And so much more!



A $50 discount off The Transplantation Society (TTS) dues when paying IPTA and TTS dues at the same time


Become involved in one or more of IPTA's very active committees for even more networking and educational opportunities. There are several to choose from including: Allied Health, Membership, Ethics, Education, Infectious Disease, Outreach, and Publications and Communications
Become a leader in the field of pediatric transplantation by your active involvement in the International Pediatric Transplant Association!